Husson University School of Pharmacy to Host the 4th Annual Walgreens "Diversity in Health Care" Lecture
Published on: August 28, 2015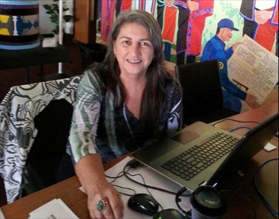 BANGOR, MAINE - 
The Husson University School of Pharmacy announced today that it will be hosting Walgreens 4th Annual "Diversity in Health Care Lecture" in the Gracie Theatre on Thursday, October 22 at 12:30 p.m. The lecture is free and open to the public.
"This lecture series is designed to help our student pharmacists better understand their professional responsibilities," said Husson University School of Pharmacy Associate Dean and Professor Eric J. Jarvi, Ph.D. "As future health care professionals, we want to make sure our students get the information they need to help cultivate a diverse, supportive and inclusive health care culture that respects individuals of different backgrounds, traditions and ethnicities."
In addition to being a consultant to the non-profit field for the past 16 years, Kingfisher lives and works on her grandmother's allotment land in Northeast Oklahoma where she grows organic food and works to preserve and utilize medicinal plants. Her presentation will focus on access and delivery of health care in chronically underserved patient populations.
Funding for this lecture series, as well as Husson University's High School Pharmacy Summer Camp, is graciously provided through a grant from Walgreens.
This lecture series is part of American Pharmacists Month, an annual event sponsored by the American Pharmacists Association. The month-long event focuses on increasing awareness of the pharmacy profession among professionals, patients and the community.
More About Pamela Kingfisher:
A Cherokee woman born to the bird clan, Kingfisher provides assistance to nonprofits and foundations interested in organizing, capacity building, program development, portfolio and grantee cohort management.
Born and raised in the shadow and secrecy of nuclear bomb building, her anti-nuclear community was instrumental in stopping the production of 23 percent of the world's uranium supply at the notoriously contaminated Kerr-McGee "Sequoyah Fuels" plant in Gore, Oklahoma.
Kingfisher worked for the Indian Health Service for 14 years where she developed medical libraries and tumor registries.
Her awards include the 1990 U.S. Surgeon General's Award for Outstanding Performance, Indian Health Service, Public Health Service, Washington DC.; and the 2003 Tides Center's Ingrid Washinawatok El-Issa Award for Community Activism for her work in cultural revitalization projects, women's health, and environmental issues.
As the director for the Indigenous Women's Network, she led two delegations of eight indigenous women to United Nations' meetings in Durban and Johannesburg, South Africa, where she trained them in organizing and speaking to government officials. She also ran a retreat center and published a magazine.
Kingfisher currently serves as the South lead for the National Farm to School Network and provides leadership to its native communities cohort. She is also the reproductive rights program director for the Native American Women's Health Education Resource Center.
Founded in 2007, the Husson University School of Pharmacy is accredited by the Accreditation Council for Pharmacy Education (ACPE). The School graduated its first class with Doctorate of Pharmacy (Pharm.D.) degrees in May 2013.
While Husson University prides itself as a teaching institution, the importance of faculty scholarship and research to contemporary pharmacy education is not overlooked. The School of Pharmacy has been able to attract nationally renowned educators with expertise in cancer research, wound healing, and national board certification in the specialty areas of pharmacotherapy.
For more than 100 years, Husson University has prepared future leaders to handle the challenges of tomorrow through innovative undergraduate and graduate degrees. With a commitment to delivering affordable classroom, online and experiential learning opportunities, Husson University has come to represent superior value in higher education. Our Bangor campus and off-campus satellite education centers in Southern Maine, Wells and Northern Maine provide advanced knowledge in business; health and education; pharmacy studies; science and humanities; as well as communication. In addition, Husson University has a robust adult learning program. For more information about educational opportunities that can lead to personal and professional success, visit Husson.edu.
Back to All Articles