Husson University's Sixth Annual Research and Scholarship Day Celebrates the Achievements of Students and Faculty
Published on: April 22, 2015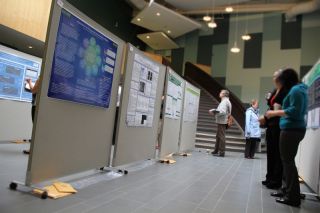 BANGOR, MAINE - Husson University announced today that it will celebrate the scholarly achievements of students and faculty during its Sixth Annual Research and Scholarship Day on April 23, 2015 from 8:30 a.m. – 4:00 p.m. in the Gracie Theatre and the adjacent Darling Atrium on the educational institution's Bangor, Maine campus. During the event, undergraduates, graduate students and faculty members from all of the university's colleges and schools will share the results of their many capstone research projects, graduate theses and other activities devoted to the advancement of knowledge.

Dr. Rita Freed will deliver the keynote lecture this year. She is from the Department of Art of the Ancient World at the Museum of Fine Arts, Boston. Her presentation, "A Layman's Guide to Egyptian Art" will begin at 1:30 p.m. in the Gracie Theatre and will be immediately followed by a recognition ceremony honoring the best posters. A reception in the Darling Atrium will conclude the event. 

"Research and Scholarship Day is an annual opportunity for us to recognize the important contributions made by students and faculty members. Their efforts are helping to improve our understanding of the issues, materials, and processes that affect our lives every day. The depth and diversity of their original thinking is a testament to the outstanding education we offer to aspiring professionals," said Lynne Coy-Ogan, Ed.D., senior vice president for academic affairs and provost at Husson University.

Research and Scholarship Day kicks off at 8:30 a.m. in the Darling Atrium in the Beardsley Meeting House with a display of posters that summarize many of the research activities undertaken during the past year. This is followed at 10:00 a.m. by oral platform presentations in the Gracie Theatre where the research originators share their findings with an enthusiastic audience. From 11:00 a.m. – 12:30 p.m., research authors stand by their poster presentations and answer questions about their findings. Following Dr. Freed's plenary address, there will be a concluding reception and presentation at 2:30 p.m. recognizing the Best Student Research Posters as judged by a select group of Husson University faculty and staff members. Top scoring student posters will be awarded gift certificates to the Husson University Bookstore.
"Dr. Freed is an outstanding addition to this year's event," said William J. Lindblad, Ph.D., director of the Office of Research and Scholarship at Husson University. "She is one of the nation's foremost authorities on Egyptian art and her presentation will be of enormous interest to anyone with an interest in archaeology."

Freed holds the John F. Cogan, Jr. and Mary L. Cornille chair of art of the ancient world at the Museum of Fine Arts, Boston. A specialist in Egyptian art, Freed received her Bachelor of Arts in ancient near eastern archaeology and biblical studies from Wellesley College. She also has a Master of Arts and a Ph.D. in Egyptian and ancient near eastern art and archaeology from the Institute of Fine Arts at New York University. 

She was an associate professor at the University of Memphis and the founding director of the Institute of Egyptian Art and Archaeology before coming to the Museum of Fine Arts, Boston as their first curator of Egyptian, Nubian and ancient near eastern art. She later became the organization's chair of art of the ancient world. 

Freed also serves as an adjunct professor of art at Wellesley College. She has participated in excavations in Egypt, Israel and Cyprus and currently participates in the Italian mission to the Tomb of Harwa on the west bank in Luxor. The exhibitions she has curated and co-curated include Egypt's Golden Age, A Divine Tour of Ancient Egypt, Ramesses the Great, Pharaohs of the Sun and The Secrets of Tomb 10A. 

She is the past president of CIPEG (Comité International pour l'Égyptologie), a former U.S. representative of the International Congress of Egyptology and currently serves on the boards of the Scientific Committee of the Egyptian Museum in Turin, the Archaeological Endowment Fund of the American Research Center in Egypt, and the Editorial Board of the Art Journal. 

For more than 100 years, Husson University has prepared future leaders to handle the challenges of tomorrow through innovative undergraduate and graduate degrees. With a commitment to delivering affordable classroom, online and experiential learning opportunities, Husson University has come to represent superior value in higher education. Our Bangor campus and off-campus satellite education centers in Southern Maine, Wells and Northern Maine provide advanced knowledge in business; health and education; pharmacy studies; science and humanities; as well as communication. In addition, Husson University has a robust adult learning program. For more information about educational opportunities that can lead to personal and professional success, visit Husson.edu.
Back to All Articles