Simulated crime scene investigation at Maine Science Festival
Published on: March 27, 2015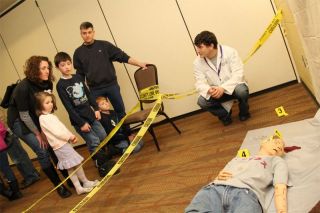 By Eric B. Gordon
As the team members who gather and analyze the available physical evidence, they are a critical part of crime scene investigations. Their focus on fingerprints, footprints, hair, fibers, soil samples, blood and bullets can make or break a case. Although they spend most of their time in the laboratory, they make important contributions to public safety. In court, they are the ones whose testimony helps convict the guilty and exonerate the innocent.

They are the forensic scientists.

Becoming a forensic scientist isn't easy. It requires years of specialized training at a university with an advanced program devoted to this unique field of scientific study.

As a leading educator of forensic scientists in Maine, Husson University proudly showcased the science behind crime scene investigations as part of the Maine Science Festival at the Cross Insurance Center in Bangor, Maine on March 21 - 22.

According to their website, the mission of the festival is to stimulate interest in science among the general population, to heighten awareness of the impact of science on everyday life, and to demonstrate the diversity of scientific enterprise in Maine.

To assist is important effort, Husson University created a simulated crime scene at the event that children of all ages could visit, discover evidence and develop a case theory. Walking through the crime scene, students were challenged to figure out the crimes that were committed and the identity of the victims using scientific investigative methods.

In addition to the crime scene investigation, Alicia Wilcox, an assistant professor in the School of Legal Studies at Husson, participated in a lively panel discussion about mummies. Her presentation focused on what forensic scientists can do to help us understand ancient cultures through the scientific examination of individual remains. 

Wilcox feels forensic science is very important to society. "I'm passionate about forensics and strive to draw my students into this fascinating application of science to law. My students learn that as laws are updated and court requirements change, the evidence will still speak its own truth. It is our responsibility to interpret this truth correctly."

Husson University's School of Legal Studies offers a forensic science program through its College of Business. If you're interested in learning more about a career in forensic science and how Husson University can help you achieve career success, visit Husson.edu/Forensic-Science.
Back to All Articles