Ribbon Cutting Ceremony Marks the Opening of the New Wadleigh Academic Center at Husson University
Published on: March 20, 2015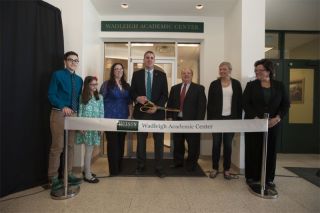 BANGOR, MAINE - With a snip of the ceremonial scissors, Randy Wadleigh the president and chief executive officer of Governor's Restaurant marked the opening of the new Wadleigh Academic Center at Husson University that bears his family's name. The dedication ceremony took place at 11:30 a.m. on March 19, 2015 in the lobby of Husson's Newman Athletic Complex.

The new facility, immediately adjacent to the athletic complex's lobby, is designed to help athletes and other students, better prepare for academic success. It has a comfortable adaptable design that encourages student collaboration and learning.

Husson University President Robert A. Clark, Ph.D. said, "This project is a testament to our values. When entering the Newman Athletic Complex, one immediately sees the Wadleigh Academic Center on the right. Having an academic space dedicated to learning in the heart of our athletic facilities clearly demonstrates Husson University's dedication to a student's education."

A significant portion of today's ceremony was dedicated to honoring Randy Wadleigh and his wife Angela, whose generous donation made the Wadleigh Academic Center possible. 

Randy Wadleigh is a 1987 graduate of Husson University where he majored in business administration. He was also a member of the Husson men's basketball team and understands, first hand, the challenges that students experience in trying to strike a balance between athletics and academics. In 1999, Randy Wadleigh was inducted into Husson University's Sports Hall of Fame.

"There isn't a day that goes by in my life, both professionally and personally, that the lessons I learned as a student athlete don't help improve my company and my family life," said Wadleigh. 

In addition to Dr. Clark and Mr. Wadleigh, other individuals who participated in today's event included:
• Lynne Coy-Ogan, Ed.D., senior vice president for academic affairs and provost, Husson University
• Frank Pergolizzi, director of athletics, Husson University
• Lindsay Chapman, Husson University student. Chapman is a sophomore in the College of Health and Education where she is majoring in occupational therapy. She is also a member of the women's volleyball team at Husson.

"Sports has the power to teach us important skills including leadership, teamwork, how to win, and perhaps most importantly, how to lose," said Frank Pergolizzi, director of athletics at Husson University. "These are important experiences that each of us needs in order to have successful careers and successful lives. Equally important, if not more important to the success one achieves in life, is education. Helping all our students, including our student athletes, get a great education and become successful is what we're all about here at Husson University."

When asked what having this facility meant to her, Husson sophomore Lindsay Chapman said, "It says to me, 'We know you and other athletes are working hard. We know it's tough. But we believe in you and know that you can do it. You can be successful in both your sport and in the classroom. And we're willing to step up, to give you the kinds of facilities you need so that you can be the best in both.'"

Husson Provost Lynne Coy-Ogan summed it up this way: "At Husson, we believe that our athletic offerings produce well-rounded student-athletes who embrace the spirit of competition while becoming community and professional leaders. Our student-athletes recognize the "student" part of the title always comes first and that the entire collegiate experience should be embraced."

Governor's Restaurant and Bakery can be found at six locations throughout Maine and is considered by many to be a local institution. More than 50 Husson University trustees, faculty, staff and students attended today's event.

For more than 100 years, Husson University has prepared future leaders to handle the challenges of tomorrow through innovative undergraduate and graduate degrees. With a commitment to delivering affordable classroom, online and experiential learning opportunities, Husson University has come to represent superior value in higher education. Our Bangor campus and off-campus satellite education centers in Southern Maine, Wells and Northern Maine provide advanced knowledge in business; health and education; pharmacy studies; science and humanities; as well as communication. In addition, Husson University has a robust adult learning program. For more information about educational opportunities that can lead to personal and professional success, visit Husson.edu.
Back to All Articles