Third Annual Interprofessional Evening of Conversation for Aspiring Healthcare and Education Professionals to Take Place at Husson University
Published on: March 19, 2015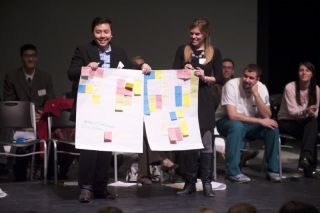 BANGOR, MAINE - More than 250 students from Husson University, majoring in physical therapy, occupational therapy, pharmacy, health care studies, education, and graduate mental health counseling as well as those pursuing bachelor's and graduate nursing degrees, will participate in the Third Annual Interprofessional Evening of Conversation on February 19 from 5:30 p.m. – 8:00 p.m. at the Gracie Theatre. 

This event, structured in a manner similar to "grand rounds", features a simulated case presentation with an actor portraying a patient with a health condition. Students observe the interview and then engage in small group discussions from an interprofessional perspective where they formulate a care plan for the "patient." 

Twenty-five student and faculty facilitators help engage the more than 250 Husson students participating in this event. 

Husson University is one of only a few institutions of higher education in Maine using this cutting-edge method of education for their healthcare and education programs.

Once completed, the students from the various healthcare and education disciplines will have gained insight into drawing out information from patients, identifying treatment options and the potential for various healthcare disciplines to contribute to a plan of action that improves patient outcomes.

"While there are many opportunities for Husson students to experience interprofessional collaboration as part of their education, the "Evening of Conversation" is the first patient-focused interprofessional activity for a significant number of our students," says Peg Olson, PT, Ph.D., NCS, a faculty member in Husson University's School of Physical Therapy. "Participating in this event will help students gain the skills they'll need to be effective in today's team-oriented healthcare delivery system. This includes the medical home models of healthcare delivery that demand interprofessional evaluation and consultation."
Why is Interprofessional Communication Important?

Communication is an important key to maximizing patient outcomes and eliminating medical errors. According to the Academic Health Center at the University of Minnesota, interprofessional teamwork is responsible for improved health care experiences, 50 percent reductions in both adverse patient outcomes and the length of the average intensive care unit stay, a dramatic decrease in the clinical error rate, and lowering the per capita cost of health care, all while increasing in the professional satisfaction of those employed in health care fields. 
Continuing to educate aspiring healthcare and education professionals in the importance of good communication can help improve the health of millions of Americans. 

More About Husson University

For more than 100 years, Husson University has prepared future leaders to handle the challenges of tomorrow through innovative undergraduate and graduate degrees. With a commitment to delivering affordable classroom, online and experiential learning opportunities, Husson University has come to represent superior value in higher education. Our Bangor campus and off-campus satellite education centers in Southern Maine, Wells and Northern Maine provide advanced knowledge in business; health and education; pharmacy studies; science and humanities; as well as communication. In addition, Husson University has a robust adult learning program. For more information about educational opportunities that can lead to personal and professional success, visit Husson.edu.
Back to All Articles