Husson University's Gracie Theatre Will Celebrate Romance With Bizet to Broadway Concert
Published on: March 5, 2015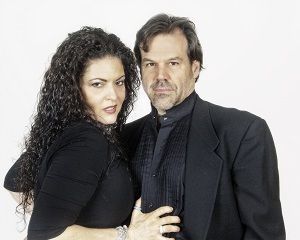 BANGOR, MAINE – Richard Troxell, one of the world's greatest lyric tenors and Kirsten Chavez, a mezzo-soprano known around the globe for her portrayal of Carmen, will make a rare appearance together in concert at the Gracie Theatre on Friday, February 13 at 7 p.m.

Their concert, "Bizet to Broadway," features arias, ballads and Broadway favorites, all dedicated to love in honor of Valentine's Day.

"This concert, featuring a selection of classic love songs, is a perfect Valentine's Day celebration for music lovers. It's rare to have two world-class performers together for one evening, so we're especially fortunate." says Jeri Misler, managing director of the Gracie Theatre. "Wine and chocolate will top off the evening's romantic theme." 

Selections from Bizet's Carmen performed in concert include Carmen's famous "Habenera," "Seguidilla," "Don Jose's Flower Song," and the beautiful final duet of the opera. In addition, they will perform the infamous aria, "Mon coeur s'ourvre a ta voix" from the Camille Saint-Saëns opera, Samson and Delilah. 

Broadway selections include "We Kiss in a Shadow" and other duets from The King and I. The performance will also feature other Broadway classics from Richard Troxell's newly released CD So In Love. With timeless hits from Cole Porter and George Gershwin including, "I Love Paris," and "I've Got Rhythm," the CD is certain to be popular with music lovers. 

While it may be rare for Troxell and Chavez to perform in concert together, they have performed in the opera Carmen on numerous occasions with Chavez as the lusty Carmen and Troxell as her ill-fated lover, Don José. They have appeared at such prominent venues as the National Theater in Taiwan, the National Center for the Performing Arts in Beijing and the world-famous Sydney Opera House in Australia.
Kirstin Chávez is considered one of the most riveting and significant performing mezzo-sopranos today. The combination of her magnificent voice, dramatic intensity and natural physical beauty, make her an arresting and unique presence on the operatic stage. Ms. Chávez has captured attention and acclaim in her signature roles and is recognized as one of the definitive Carmens of today; a role that she has performed with great success throughout the United States, and around the world. Opera News reported that her Carmen in Graz, Austria was "the Carmen of a lifetime."

Professionally, Troxell has sung leading roles in opera companies nationally and internationally and starred in the Martin Scorsese film "Madame Butterfly" as B.F. Pinkerton. He was also seen on late night TV with Jimmy Fallon. Highlights from the past two years include his début in Italy as Don José at the Teatro Petruzzelli under the baton of Maestro Lorin Maazel. He later reprised the role at the Maestro's Castleton Festival. He also performed the title role in Philip Glass' Galileo Galilei with the Portland Opera, Pinkerton in Madame Butterfly with Opera Australia, and Roméo in Roméo et Juliette with the Palm Beach Opera and the San Antonio Opera. 

Troxell has also been a featured performer in La Bohème with the Opera Colorado. Other performances include the role of Turiddu in Cavalleria Rusticana at the Opera Hamilton, and his first Des Grieux in Massenet's Manon with the Calgary Opera. 

In describing the role of Don José in Carmen, Troxell says, "The character takes a fabulous journey from the beginning to the end of the opera. It's a fantastic acting piece." He also favors the role of Rodolfo in La Bohème because of Rodolfo's youthful, unabashed, lust for life. Pinkerton is among his favorites because of the 1996 Scorsese released film, in which he starred as the famous American soldier whom Butterfly tragically loves.

Troxell recently returned from Prague where he is recording a second CD of all-American Broadway classics with the Czech Symphony Orchestra. 

Tickets to the "Bizet to Broadway" concert are $22 online, by phone or at the door. Richard's new CD, So In Love, is available on CD Baby, Amazon and iTunes. More information about the CD is available at RichardTroxell.TV

Completed in October of 2009, The Gracie Theatre is Husson University's center for the fine and performing arts. This beautiful new 500-seat theatre is quickly earning a reputation as one of Maine's premier performance venues. In addition, the Gracie also serves as a learning platform for students from the New England School of Communications at Husson University in digital audio, sound mixing, set design and construction, lighting, acting and electronics. For more information, visit GracieTheatre.com
For more than 100 years, Husson University has prepared future leaders to handle the challenges of tomorrow through innovative undergraduate and graduate degrees. With a commitment to delivering affordable classroom, online and experiential learning opportunities, Husson University has come to represent superior value in higher education. Our Bangor campus and off-campus satellite education centers in Southern Maine, Wells and Northern Maine provide advanced knowledge in business; health and education; pharmacy studies; science and humanities; as well as communication. In addition, Husson University has a robust adult learning program. For more information about educational opportunities that can lead to personal and professional success, visit Husson.edu.
Back to All Articles