Two Generations of the Darling Family to Speak at Husson University's Dyke Center for Family Business
Published on: December 12, 2014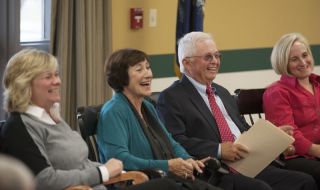 BANGOR, MAINE - The popular series, "A Conversation at the Dyke Center" will host one of the area's prominent business families on Thursday, December 11, 2014 from 12:30 to 1:30 PM at the Richard E. Dyke Center for Family Business on the Bangor campus of Husson University.

Husson alumnus, Edward O. Darling and his family will discuss the successes and challenges of a family owned business, including intergenerational dynamics, succession planning and developing talent. 

The format for "A Conversation at the Dyke Center" is similar to a town hall meeting. The entrepreneurs that participate in this series are leaders in their chosen career fields. 

Darling is best known in the area as the owner of Downeast Toyota-Scion in Brewer, a family owned business that now spans three generations. He began his career in Connecticut, Lincoln and Norridgewock, Maine in the service and parts divisions of his family's company. In 1968, Darling returned to Bangor to run his father's auto dealership and five years later, moved its operations to Brewer.

Today, the prominent central Maine dealership features a 30,000 square foot display room, an office building and an adjoining repair shop. Recognized as a leader in the automotive industry, Darling was a member of the National Toyota Council – an organization representing 72 New England auto dealerships.

Ed's wife, Mary Ellen Darling, was also actively involved in the family business. The child of Bangor natives Francis and Eleanor Sheehan, Mary Ellen attended St. John's Grammar School and graduated from John Bapst High School in 1959. In 1962, she graduated from the Catherine Laboure School of Nursing in Dorchester, Massachusetts and married her husband Ed. 
Her involvement at the dealership began after she started raising their children. Initially, while the children were in school, Mary Ellen worked part-time on an "as needed" basis. Over time, she became a full-time employee and served in human relations, customer relations, and purchasing. She most enjoyed greeting and directing the customers. Ed Darling refers to his wife as "the glue that holds the family and the business together."

In addition to Ed and his wife Mary Ellen, family members participating in the upcoming "Conversation at the Dyke Center" include Ed's son-in-law, Kevin Kelly, chief executive officer of Downeast Toyota; Kevin's wife Francie Darling, the manager of Downeast Autobody; and Ed's daughter, Kate Fraser, vice president of human resources for Downeast Toyota.

Edward O. Darling, and his wife, Mary Ellen, have made numerous contributions to the communities they serve.

Their service includes volunteering as the chair of the St. Joseph Hospital Board of Directors and work on the church councils at St. John's in Bangor and St. Joseph's in Brewer. As part of this effort, Ed served as co-chair of the restoration campaign at St. John's. 

In 1997, Ed received the Mother Angela Award in recognition of his exemplary service to the community and to St. Joseph Healthcare. Eight years later, he received the Norbert X. Dowd Award, the highest honor given by the Bangor Region Chamber of Commerce in recognition of his distinguished community service. 

Mary Ellen has served for several years on the Board of Directors at John Bapst Memorial High School.

The Darling family has had a close and long-standing relationship with Husson University.

The Darling Atrium is a two story public space adjacent to the Gracie Theatre in the Beardsley Meeting House that was made possible by Edward O. Darling, Sr., Class of 1964, and his wife and family. 

In 2013, Husson University announced that the first floor of its Living Learning Center would be renamed. It is now known as the Edward O. and Mary Ellen Darling Learning Center.

When asked why he chose to support Husson University, Darling said, "A degree is more than just four years of education and a diploma. It is the foundation of all your future success. It's knowledge and insight into life that you take with you wherever you go. The success I've experienced in my career and in my life is the result of the education I received at Husson University."
"We are honored to have the Darlings participate in one of our premiere events at the Dyke Center," said Husson University College of Business Dean Marie Hansen. "We look forward to hearing insights on how to run a successful family owned business from two generations of the Darling family."

Sponsored by Husson University's College of Business, "A Conversation at the Dyke Center" is a unique interactive conversation that provides students with the opportunity to connect with successful and talented professionals as part of their education. Students must complete background preparations leading up to the event and prepare pre- and post-visit papers. In addition, some students get the chance to "pick the brains" of the guest business leaders over lunch.

In addition to "A Conversation at the Dyke Center", Ed Darling was recently named an executive in residence at Husson University's College of Business. In this role, he will help mentor individual students and share lessons learned over the course his distinguished career with groups of students through on-campus educational events.

For more than 100 years, Husson University has prepared future leaders to handle the challenges of tomorrow through innovative undergraduate and graduate degrees. With a commitment to delivering affordable classroom, online and experiential learning opportunities, Husson University has come to represent superior value in higher education. Our Bangor campus and off-campus satellite education centers in Southern Maine, Wells and Northern Maine provide advanced knowledge in business; health and education; pharmacy studies; science and humanities; as well as communication. In addition, Husson University has a robust adult learning program. For more information about educational opportunities that can lead to personal and professional success, visit Husson.edu.
Back to All Articles