Australian Scholar to Speak on Democracy and the Great Recession
Published on: October 20, 2014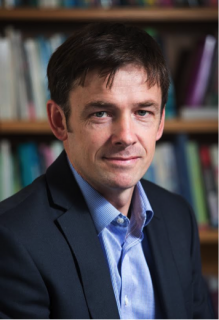 The Husson University School of Science and Humanities, along with the Maine Chapter of the Fulbright Association, are pleased to sponsor "Rebuilding Democracy: Political Consequences of the Great Recession in Australia and the U.S.," a lecture by Fulbright Scholar Richard Eccleston on Friday, October 24, 2014 at 5:00 p.m. in Kominsky Auditorium on the Husson University campus.

Professor Eccleston is the founding director of the University of Tasmania's Institute for the Study of Social Change and has been awarded a 2014 Fulbright Senior Fellowship to conduct research on "Fiscal federalism in the shadow of the Financial Crisis: Implications for state finances in Australia and the United States." He is in residence at George Mason University in Arlington, VA, and traveling throughout the country gathering data for his research.

In Australia, Richard Eccleston is a Professor of Political Science at the University of Tasmania, Australia's picturesque island state. He is specialist in comparative and international political economy with an emphasis on taxation policy and public finance. He is the author or editor of six books and over 50 articles and chapters on these and related topics. His current focus is on two research projects funded by the Australian Research Council. The first explores the dynamics of international tax cooperation in the aftermath of the Financial Crisis while the second is concerned with the changing nature of fiscal federalism.

As national economies become more and more interconnected globally, the impact of a country's financial governance spreads quickly beyond its borders. In 2008, the United States and the global financial system slid into a devastating recession. From that point to the present, citizens in most democracies have expected government to provide a safety net, a return to economic growth, investigation of the collapse, and punishment of wrongdoers. Yet levels of government—organized within a federal system—have specific powers and jurisdictions. The recent financial downturn has had serious consequences for how governments might administer their fiscal responsibilities. Professor Eccleston's talk will explore what that might mean for Australia and the United States going forward.

The lecture is free and open to the public. For more information on Professor Eccleston and his research, please visit his website: http://www.richardeccleston.com/


The Fulbright Scholar program (from their website):

Each year some 800 faculty and professionals from around the world receive Fulbright Scholar grants for advanced research and university lecturing in the United States. Individual grants are available to scholars from over 155 countries. Individuals who meet the eligibility requirements apply for grants through the Fulbright commission/foundation or public affairs section of the U.S. embassy in their home countries.

Individual Fulbright grants are available for scholars from selected countries to conduct research, lecture or pursue combined lecturing and research in the United States. Under the Visiting Fulbright Scholar Program, scholars apply in their home country for Fulbright awards.
Back to All Articles