Husson and SMCC Sign Agreement to Facilitate the Transfer of Course Credit
Published on: July 1, 2014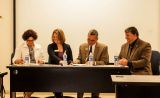 SOUTH PORTLAND, MAINE – June 30, 2014 - Husson University and Southern Maine Community College (SMCC) have entered into an agreement that will create a smooth process for the transfer of credits from SMCC to Husson. A signing ceremony, representing the culmination of the agreement process, will take place at 11:30 a.m. Tuesday, July 1, 2014, in Room 101 of the Ross Technology Center on the SMCC South Portland Campus. 

The agreement covers the transfer of credits from the following SMCC Associate degree programs into the corresponding Husson University Bachelor's degree programs. 

The following SMCC Programs lead into the following Husson University Programs
From AS Business Administration to BS Business Administration
From AS Business Administration - Sport Management to BS Sport Management
From AS Computer Science to BS Computer Information Systems
From AS Computer Science to BS Software Development
From AAS Computer Technology to BS Computer Information Systems
From AAS Computer Technology to BS Software Development
From AAS Criminal Justice to BS Criminal Justice
From AAS Hospitality Management to BS Hospitality & Tourism Management

For SMCC students, the agreement includes programs in computer science, computer technology and other fast-growing fields that promise students bright futures, said SMCC President Ron Cantor. SMCC is enhancing its information technology programs with a new state-of-the-art computer lab equipped with the latest technology.

"This partnership between SMCC and Husson will contribute to student success at both institutions," Cantor said. "This agreement ensures a smooth transition from community college to university and from associate degree to bachelor's degree."

"This agreement allows students to pre-plan their college careers so they can avoid taking unneeded credits and spending money on courses that won't count toward a bachelor's degree," said Husson University's College of Business Dean Marie Hansen. "In reaching this understanding, our two institutions have made it possible for students interested in completing a Bachelor's degree with Husson University to benefit from a more seamless credit transfer process at both the Bangor and Westbrook campuses."

Hansen continued: "We are pleased to be working together with SMCC to facilitate opportunities for students to pursue further education." 

Southern Maine Community College (SMCC) is Maine's largest and oldest community college. Founded in 1946, SMCC offers courses at its South Portland and Brunswick campuses, at 10 community satellite locations and online. SMCC has the lowest tuition and fees in New England and offers more than 45 degree programs. For more information visit www.smccme.edu.

For more than 100 years, Husson University has prepared future leaders to handle the challenges of tomorrow through innovative undergraduate and graduate degrees. With a commitment to delivering affordable classroom, online and experiential learning opportunities, Husson University has come to represent superior value in higher education. The Bangor campus and satellite education centers in Southern Maine, Wells and Northern Maine provide advanced knowledge in business; health and education; pharmacy studies; science and humanities; as well as communication. In addition, Husson University has a robust adult learning program. For more information visit Husson.edu. 
Back to All Articles