Husson University to Award 800 Degrees
Published on: May 9, 2014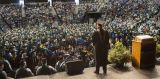 BANGOR, MAINE - A college graduation is a solemn ceremony that honors the dedication and years of hard work students devote to earning a degree. This Sunday, May 11, 2014, at 2:00 p.m. in Bangor, Maine's Cross Insurance Center, Husson University will celebrate the academic achievements of the Class of 2104 in a ceremony rich with academic traditions as part of its 115th Annual Commencement Exercises.

This year Husson will award over 800 undergraduate and graduate degrees, the largest number of degrees award by the educational institution since its founding in 1898.

Lynne Coy-Ogan, Ed.D., Senior Vice President for Academic Affairs and Provost at Husson University says, "Husson University has experienced enormous growth over the past decade. As the number of students earning degrees and the number of family members interested in attending graduation has increased, we found we could no longer hold our commencement on campus and remain indoors. Holding our commencement at the Cross Insurance Center helps us ensure that graduation proceeds as planned, regardless of the weather."

The keynote speaker at this year's commencement is Mary Prybylo, RN, MSN, President and Chief Executive Officer of St. Joseph Healthcare/St. Joseph Hospital. 

More Information About Mary Prybylo 

Prybylo has extensive healthcare experience in both administration and patient care services. 

Prior to becoming the President and CEO of St. Joseph Healthcare/St. Joseph Hospital in 2011, Prybylo served as the Chief Operating Officer at Waterbury Hospital Health Center where she was responsible for operations, physician partnerships and strategic initiatives that supported the delivery of patient care in both inpatient and outpatient settings.

Over the course of her career, she has held a variety of leadership positions including the Director of Community Care Management and Vice President of Managed Care and Operations within the Anthem Blue Cross and Blue Shield of Connecticut system, as well as Vice President for Patient Care Services at St. Mary's Hospital in Waterbury, CT. Prybylo received her Bachelor of Science degree in Nursing with a minor in Psychology from the University of Massachusetts, Amherst. She earned her Master's degree in Nursing with a double major in Critical Care Nursing and Management from Case Western Reserve University, Cleveland, Ohio.

Honorary Degrees

In addition to delivering the keynote address, Prybylo will receive an honorary Doctor of Public Service degree in recognition of her lifelong commitment to serving the community and her support of access to quality health care and patient dignity. 

Another person who will receive an honorary degree is Royce M. Cross, the President and CEO of the Cross Insurance agency, one of the largest independent insurance providers in New England. Cross will receive an honorary Doctor of Business Administration degree in recognition of his dedication to integrity, hard work, loyalty and community leadership.

Cross began his professional career in 1970 typing insurance policies in his father's agency. Over the past four decades, the insurance agency has grown and prospered. After 103 acquisitions, the organization has expanded to include 650 employees servicing more than 100,000 customers out of more than 35 offices in Maine, New Hampshire, Massachusetts, Connecticut and Rhode Island. Under Royce's leadership, the organization continues to grow.

In 2013 alone, Cross Insurance announced four separate company acquisitions, as well as an expansion into Rhode Island with the opening of its first office in the Ocean State. The next year, Cross Insurance acquired another four additional agencies: The Insurance Exchange of Stamford, Connecticut, The Driscoll Agency of Norwell, Massachusetts, the Willis agency of Northern New England, based in Maine, and Troy; and Pires & Allen of East Providence, Rhode Island.

Today, with Royce at the helm, Cross Insurance collects nearly $1 billion in premiums annually. Recognized as a leadership icon, Cross was one of three chief executives recognized by Mainebiz in 2014 as a "Business Leader of the Year." Most recently Cross purchased the naming rights for Bangor's new event center for $3 million. Known as the "Cross Insurance Center," this modern facility hosts events such as concerts, family shows, meetings, conventions, and other special events.

The graduation ceremony will recognize individuals who have completed their degrees from Husson University's College of Business, College of Health and Education, School of Pharmacy and School of Science and Humanities. Individuals graduating from the New England School of Communications (NESCom) will be recognized in a separate ceremony at the Newman Gymnasium on the institution's Bangor, Maine campus on May 10 at 2:00 p.m. For more information about the NESCom commencement exercises visit NESCom.edu/commencement.

The Cross Insurance Center is located at 515 Main Street in Bangor, Maine. Individuals traveling to graduation from outside the area who need help finding accommodations are encouraged to contact the Bangor Convention and Visitors Bureau at (207) 947-5205.

The commencement ceremony begins at 2:00 p.m. and takes approximately two hours to complete. Guests are encouraged to arrive at the Cross Insurance Center by 12:30 p.m. Early arrival is recommended to avoid traffic congestion and to obtain choice seating. Tickets are not required. Those who arrive first, get to choose their seats first. Individuals with special needs should call (207) 941-7129 or email greenj@husson.edu so Husson University can make the appropriate arrangements.

For more than 100 years, Husson University has prepared future leaders to handle the challenges of tomorrow through innovative undergraduate and graduate degrees. With a commitment to delivering affordable classroom, online and experiential learning opportunities, Husson University has come to represent superior value in higher education. Our Bangor campus and off-campus satellite education centers in Southern Maine, Wells and Northern Maine provide advanced knowledge in business; health and education; pharmacy studies; science and humanities; as well as communication. In addition, Husson University has a robust adult learning program. For more information about educational opportunities that can lead to personal and professional success, visit Husson.edu.
Back to All Articles