President and CEO of the Federal Reserve Bank of Boston to Speak at Husson University on "Tax Day"
Published on: April 9, 2014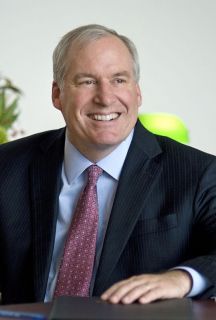 Eric Rosengren, president and chief executive officer of the Federal Reserve Bank at Boston, will share his thoughts and insights into the current state of America's economy during a lecture at the Gracie Theatre on the campus of Husson University in Bangor, Maine on April 15.

"Having a highly regarded economic researcher and policy leader like President Rosengren speak at our campus provides our College of Business students with unique insights into the numerous factors that determine monetary policy," said Lynne Coy-Ogan, Ed.D., senior vice president for academic affairs and provost at Husson University. "As a champion of aggressive economic stimulus by the Fed in response to the "Great Recession," Dr. Rosengren has been a part of financial history. His perspectives on the current state of our economy are respected by Federal Reserve observers, fellow economists and academic researchers alike." 

"April 15th, the day individual income tax returns are due, is an ideal time for a presentation like this. More than any other time during the year, this is the day people are thinking about the federal government and how it affects their personal finances. We are looking forward to a thoughtful and engaging presentation on national economic issues."

Eric Rosengren, Ph.D. has been the president and chief executive officer of the Federal Reserve Bank of Boston since July 2007. 

Previously he headed the Bank's supervision, regulation, and credit group. He was also active in domestic and international regulatory policy. Dr. Rosengren joined the Federal Reserve Bank in 1985 as an economist in the research department, with a B.A. from Colby College here in Maine and an M.S. and Ph.D. from the University of Wisconsin, Madison. 

He has written extensively on macroeconomics, international banking, bank supervision, and risk management; including articles in leading economics and finance journals. Much of his recent research has focused on how problems in the financial sector affect the real economy. 

The lecture by Dr. Eric Rosengren will take place at the Gracie Theatre on Husson University's campus in Bangor, Maine on April 15 from 4:00 – 5:00 p.m. The event is free and open to the public. Husson University Senior Vice President for Academic Affairs and Provost Lynne Coy-Ogan will serve as master of ceremonies.

For more than 100 years, Husson University has prepared future leaders to handle the challenges of tomorrow through innovative undergraduate and graduate degrees. With a commitment to delivering affordable classroom, online and experiential learning opportunities, Husson University has come to represent superior value in higher education. Our Bangor campus and off-campus satellite education centers in Southern Maine, Wells and Northern Maine provide advanced knowledge in business; health and education; pharmacy studies; science and humanities; as well as communication. In addition, Husson University has a robust adult learning program. For more information about educational opportunities that can lead to personal and professional success, visit Husson.edu.
Back to All Articles