Outstanding Husson University Students to be Honored at Top Scholars' Dinner
Published on: April 2, 2014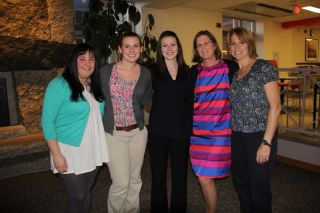 Graduating seniors with a cumulative grade point average (GPA) of 3.6 or higher will be honored at Husson University's Sixth Annual Top Scholars' Dinner on Thursday, April 3 at 5:30 p.m. In addition to paying tribute to the academic achievements of this years' graduating class, the event will feature a dinner and presentations by two notable Husson University professors.

In considering the significance of the Top Scholars' Dinner, Husson University Provost Lynne Coy-Ogan, Ed.D., said, "Maintaining a 3.6 grade point average can be demanding under the best of circumstances. Many of our students are employed, at least part time, and help pay for their own college education. Their commitment to personal growth and professional excellence as they balance work and rigorous academic studies is impressive."

Dr. Aaron Domina, an associate professor of pharmacy and the 2013 recipient of the William H. Beardsley Teaching Award will share his thoughts with the students attending the Top Scholars' Dinner. 

Domina earned a B.S. degree in Biochemistry from Worcester Polytechnic Institute, followed by a Ph.D. in Pharmacology and Toxicology from Dartmouth Medical School. For his graduate work, he studied the phosphorylation of MCL-1, a protein that helps regulate cell death. Domina then studied host-pathogen interactions (e.g. Venezuelan Equine Encephalitis virus, Sindbis virus, SARS virus, and Bacillus anthracis) during a postdoctoral research appointment at the University of Texas Medical Branch in Galveston. He has co-authored research articles in the Journal of Biological Chemistry, Oncogene, and Virology and for his graduate studies received The John W. Strohbehn Award for Excellence in Biomedical Research.

Also speaking will be assistant professor of nursing and 2013 Global Scholar Award recipient, Dr. Moira O'Neill. 

Dr. O'Neill earned a B.A. in Political Science at Castleton State College and a B.S. in Nursing at the University of the District of Columbia. She worked in a variety of health care settings and later earned dual Master's degrees at Yale University in Nursing Management and Policy and Public Health. For the last fifteen years, her focus has been on advocacy for children. She was an Assistant Child Advocate for the State of Connecticut for eleven years investigating the circumstances of children and promoting responsive public policy. Dr. O'Neill earned a Ph.D. from Yale University in 2011. Her research interests include qualitative studies in public policy affecting children and people with disabilities. She is an active member of the Yale Interdisciplinary Center on Bioethics.

Each student with a GPA of 3.6 or higher receives a personal invitation to the Top Scholar's Dinner. The event will take place in the G. Peirce Webber Campus Center in Peabody Hall on Husson University's campus in Bangor. Dean of Student Success Sharon Wilson-Barker will serve as master of ceremonies at this year's event. Coy-Ogan has the honor of introducing each of the guest presenters.

For more than 100 years, Husson University has prepared future leaders to handle the challenges of tomorrow through innovative undergraduate and graduate degrees. With a commitment to delivering affordable classroom, online and experiential learning opportunities, Husson University has come to represent superior value in higher education. Our Bangor campus and off-campus satellite education centers in Southern Maine, Wells and Northern Maine provide advanced knowledge in business; health and education; pharmacy studies; science and humanities; as well as communication. In addition, Husson University has a robust adult learning program. For more information about educational opportunities that can lead to personal and professional success, visit Husson.edu.
Back to All Articles