Husson University's Fifth Annual Research and Scholarship Day Celebrates Achievements of Students and Faculty
Published on: April 22, 2014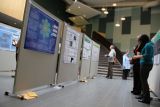 Husson University announced today that it will celebrate the scholarly achievements of students and faculty during its Fifth Annual Research and Scholarship Day on April 24th from 8:30 a.m. – 4:00 p.m. in the Gracie Theatre and the adjacent Darling Atrium on the educational institution's Bangor, Maine campus. During the event, undergraduates, graduate students and faculty members from all of the university's colleges and schools will share the results of their many capstone research projects, graduate theses and other activities devoted to the advancement of knowledge.

"I am always impressed by the incredible depth and diversity of original thinking and research taking place on our campus," said Lynne Coy-Ogan, Ed.D., senior vice president for academic affairs and provost at Husson University. "Research and Scholarship Day not only demonstrates how our students and faculty are pushing back the frontiers of knowledge, the event stands as a testament to the outstanding education we offer aspiring professionals."

Research and Scholarship Day kicks off at 8:30 a.m. in the Darling Atrium in the Beardsley Meeting House with a display of posters that summarize many of the research activities undertaken during the past year. This is followed at 10:00 a.m. by oral platform presentations in the Gracie Theatre where the research originators share their findings with an enthusiastic audience. From 11:00 a.m. – 12:30 p.m., research authors stand by their poster presentations and answer questions about their findings.

The afternoon portion of the day is comprised of awards and keynote addresses. At 1:15 p.m., Provost Lynne Coy-Ogan will lead the plenary session in the Gracie Theatre and present this year's Distinguished Faculty Research Award to chemistry professor Dr. Karl Bishop. "My Life in Science – Lessons Learned," a keynote presentation by Dr. Edison Liu, president and CEO of The Jackson Laboratory, will follow this award recognition.

"We are delighted to have Dr. Liu deliver our keynote address," said William J. Lindblad, Ph.D, Director of the Office of Research and Scholarship at Husson University. "As a distinguished scientific and medical professional, Edison has achieved significant professional success in today's knowledge-based global economy. His presentation will be inspirational to the many Husson graduating seniors who are eager to enter the workforce and make their mark on the world."

Originally from Hong Kong, Dr. Liu obtained his academic degrees from Stanford University. After completing a residency in hematology/oncology, Liu accepted an academic position at the University of North Carolina, Chapel Hill. He later went on to serve as the president of the International HUGO collaboration and was a founding executive director of the Genome Institute of Singapore. Liu relocated to Maine in 2011. 

Following Dr. Liu's keynote address, there will be a concluding reception and presentation at 3:00 p.m. recognizing the Best Student Research Posters as judged by a select group of Husson University faculty and staff members. Top scoring student posters will be awarded gift certificates to the Husson University Bookstore.

For more than 100 years, Husson University has prepared future leaders to handle the challenges of tomorrow through innovative undergraduate and graduate degrees. With a commitment to delivering affordable classroom, online and experiential learning opportunities, Husson University has come to represent superior value in higher education. Our Bangor campus and off-campus satellite education centers in Southern Maine, Wells and Northern Maine provide advanced knowledge in business; health and education; pharmacy studies; science and humanities; as well as communication. In addition, Husson University has a robust adult learning program. For more information about educational opportunities that can lead to personal and professional success, visit Husson.edu.
Back to All Articles