Husson University Launches a New Bachelor of Science in Health Sciences Degree for Aspiring Health Professionals
Published on: April 8, 2014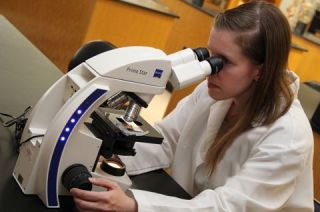 Helping to care for the sick and injured can be enormously rewarding. It's also a career that's in demand. 

According to the Bureau of Labor Statistics' Occupational Outlook Handbook, there will be significant job opportunities for qualified medical professionals who can meet the needs of America's aging baby boomer population in the coming years. The employment of physicians and surgeons is expected to grow 18 percent from 2012 to 2022, faster than the average for all occupations. Other medical-related occupations including dentists, chiropractors and optometrists anticipate growth between 15 – 24 percent over the same period. 

To help prepare today's students for tomorrow's job opportunities, Husson University announced today that it is launching a new Bachelor of Science in Health Sciences degree.

"This comprehensive undergraduate degree will give students a foundation of knowledge and essential practical experience in health science," said Lynne Coy-Ogan, Ed.D., senior vice president for academic affairs and provost at Husson University. "It's the ideal program for students interested in the health science professions or going on to pursue graduate studies in medicine, public health or allied health."

With its strong emphasis on chemistry, biology, and physiology, the new Bachelor of Science in Health Sciences degree is well suited for individuals interested in becoming a doctor of medicine, medical specialist (podiatrist, optometrist, dermatologist, osteopathic physician, etc.), veterinarian, dentist, speech pathologist, chiropractor, radiologist or physician's assistant.

Course content spans a wide spectrum of scientific knowledge with a focus on the processes and physiological functions of the human body.

Coy-Ogan continued: "Dedicated to serving the pre-professional, this cross-disciplinary program brings the latest insights to students interested in becoming the next generation of health providers. The degree is a clear demonstration of our university's commitment to becoming one of the leading providers of health sciences education at the undergraduate and graduate level."

Individuals interested in beginning their degree studies are encouraged to enroll immediately. More detailed information about the program is available online at Husson.edu/health-sciences. Students interested in enrolling can contact Carlena Bean, Husson University Admissions at 207.941.7067 or e-mail her at beanc@husson.eduphone to learn more about the application process.

For more than 100 years, Husson University has prepared future leaders to handle the challenges of tomorrow through innovative undergraduate and graduate degrees. With a commitment to delivering affordable classroom, online and experiential learning opportunities, Husson University has come to represent superior value in higher education. Our Bangor campus and off-campus satellite education centers in Southern Maine, Wells and Northern Maine provide advanced knowledge in business; health and education; pharmacy studies; science and humanities; as well as communication. In addition, Husson University has a robust adult learning program. For more information about educational opportunities that can lead to personal and professional success, visit Husson.edu.
Back to All Articles