The Gracie Theatre Features a Night of Comedy with Film and Television Star Paul Reiser
Published on: March 6, 2014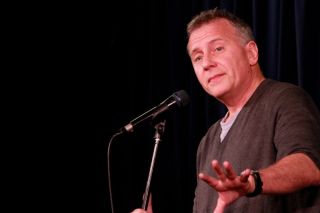 BANGOR, MAINE – Stand-up comedian, actor, writer, and musician Paul Reiser will be appearing at the Gracie Theatre at Husson University, Saturday, April 12. Reiser, most often remembered for his eight year starring role in the hit series "Mad About You," is 
re-emerging on the comedy scene with his quick wit and comedic talent. 

A seasoned entertainer, Reiser unleashes his hilarious insights about the absurdities of modern life when performing stand-up. The evening of comedy marks the final show of the Gracie Theatre's second season, sponsored in part by Bangor Savings Bank with show sponsorship by WBRC.

"In addition to being a great actor, Paul Reiser has a sharp wit and distinctive delivery. His stand-up is pure genius," remarked Jeri Misler, Gracie Theatre's managing director. "People will relate to his material; laughing about their own lives, quirks and commonalities." 

Reiser continues to add to his ever expanding list of accomplishments. In addition to co-creating and starring in the critically acclaimed NBC series, "Mad About You," which garnered Emmy, Golden Globe, American Comedy Award and Screen Actors Guild nominations, his successes also include his most recent book, Familyhood, the long awaited follow-up to Babyhood. His first book, Couplehood, sold over two million copies and reached the number one spot on The New York Times Bestseller List. 

Most recently, Reiser was cast alongside Michael Douglas and Matt Damon for the HBO 
made-for-TV movie "Behind the Candelabra," based on the autobiographical novel about Liberace. Some of Reiser's other film roles have included, "Aliens," "Beverly Hills Cop" (I and II), "Diner," "Bye, Bye Love," and "The Thing About My Folks" – which he wrote and starred in with Academy Award winning actors Peter Falk and Olympia Dukakis.

Tickets for the Reiser show start at $25.00 and are on sale at www.gracietheatre.com, on Facebook and also at the box office at 941-7888.

Completed in October of 2009, The Gracie is Husson University's center for the fine and performing arts. This beautiful new 500-seat theatre is quickly earning a reputation as one of Maine's premier performance venues. In addition, The Gracie also serves as a learning platform for students from the New England School of Communications in digital audio, sound mixing, set design and construction, lighting, acting and electronics. For more information, visit GracieTheatre.com

For more than 100 years, Husson University has prepared future leaders to handle the challenges of tomorrow through innovative undergraduate and graduate degrees. With a commitment to delivering affordable classroom, online and experiential learning opportunities, Husson University has come to represent superior value in higher education. Our Bangor campus and off-campus satellite education centers in Southern Maine, Wells and Northern Maine provide advanced knowledge in business; health and education; pharmacy studies; science and humanities; as well as communication. In addition, Husson University has a robust adult learning program. For more information about educational opportunities that can lead to personal and professional success, visit Husson.edu.
Back to All Articles