Husson University Physical Therapy Graduate Students Begin Free Clinic
Published on: March 31, 2014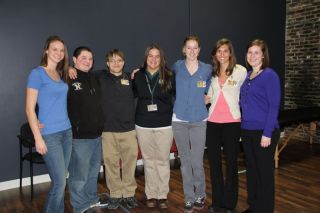 According to the Kaiser Family Foundation, one out of every 10 people in Maine has no health insurance. In an effort to serve underinsured and non-insured Bangor-area residents suffering from pain and movement dysfunction, Husson University's School of Physical Therapy announced today that it has launched a new pro-bono physical therapy clinic. Known as SOARing Eagles Healthcare, this initiative is being held in conjunction with Dragonfly Therapy on Hammond Street.

"Our graduate students will be offering free therapy sessions to anyone, of any age, who needs physical therapy but can't afford to pay for it themselves," said Kimberly Steinbarger, PT, MHS, Academic Coordinator of Clinical Education in the College of Health and Education at Husson University. "We want to be the healing hands for those in need." 

Husson graduate students will be working under the oversight of licensed physical therapists. Any individual suffering from sports or activity related injuries; range of motion limitations; headaches; general aches and pains; or who need help with post-surgery pain management would benefit from these services. Treatment options include exercise equipment, a treadmill and body weight support systems.

In an effort to help increase community awareness of new pro-bono physical therapy clinic, SOARing Eagles Healthcare is sponsoring an open house at Dragonfly Therapy at 840 Hammond Street in Bangor on April 1 from 6:00 p.m. – 8:00 p.m. Area residents will have the opportunity to see Dragonfly's facilities, get information on free physical therapy services and learn about service referrals. Refreshments will be served.

Anyone interested in learning more about SOARing Eagles Healthcare or scheduling an appointment should contact Kimberly Steinbarger, PT, MHS, at 207-941-7181. Appointments are available on Tuesdays from 6:00 p.m. – 8:00 p.m. 

Individuals can also contact the SOARing Eagles Healthcare team via e-mail at SoaringEaglesHealth@gmail.com. The e-mail address for Kim Steinbarger is steinbargerk@my.husson.edu.

Husson University's School of Physical Therapy provides the advanced knowledge students need to become skilled and knowledgeable practitioners who collaborate with a patient's health care team to help manage and alleviate pain. The educational program consists of a three-year pre-professional phase, followed by a three-year professional phase leading to a Doctor of Physical Therapy and a Bachelor of Science in Kinesiology.

For more than 100 years, Husson University has prepared future leaders to handle the challenges of tomorrow through innovative undergraduate and graduate degrees. With a commitment to delivering affordable classroom, online and experiential learning opportunities, Husson University has come to represent superior value in higher education. Our Bangor campus and off-campus satellite education centers in Southern Maine, Wells and Northern Maine provide advanced knowledge in business; health and education; pharmacy studies; science and humanities; as well as communication. In addition, Husson University has a robust adult learning program. For more information about educational opportunities that can lead to personal and professional success, visit Husson.edu.
Back to All Articles