Two Successful Family Entrepreneurs Share Their Stories at Husson University's Dyke Center for Family Business
Published on: December 18, 2013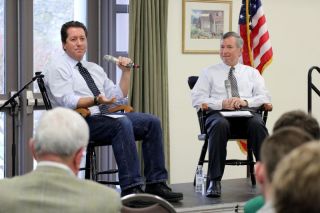 BANGOR, MAINE – December 12, 2013 – Husson University students, faculty, and invited guests from the greater Bangor business community all joined together on December 5th to participate in a lively exchange of ideas and insights with two successful family entrepreneurs. "A Conversation at the Dyke Center" featured insights from Tim Hussey of Hussey Seating and Kevin Hancock of Hancock Lumber. Each are sixth generation chief executive officers of their families' companies.

The format for this campus forum is similar to the town hall events Columbia University held with Bill Gates and Warren Buffett. The entrepreneurs that participate in the Conversations at the Dyke Center series are business leaders at the top of their game in competitive marketplaces. 

"It's no fluke that Tim and Kevin beat the family business odds, where very few companies survive past the second generation. These two innovators are examples of the importance of hard work, humility, relentless assessment of relevance, continuous learning, and commitment to community," said Nancy Forster-Holt, Ph.D., M.B.A., C.M.A., Executive Director, Entrepreneurship and Executive Development at Husson University.

Forster-Holt continued: "While classroom lessons come alive for students as they listen to these entrepreneurs talk about their successes, I think it's their recounting of their failures that have the biggest impact. To hear these leaders tell stories about the lessons they learned through failure and then say that they love what they do, and if they could do it all over, wouldn't have sought a shortcut around those lessons, is a powerful message for young people."

Sponsored by Husson University's College of Business, this unique interaction provides students with the opportunity to connect with successful and talented professionals as part of their education. Students must complete background preparations leading up to the event and prepare pre- and post-visit papers. In addition, some students get the chance to "pick the brains" of the guest business leaders over lunch.

Tim Hussey, president and CEO of Hussey Seating was one of the two featured guests at the most recent edition of "A Conversation at the Dyke Center" on December 5, 2013 and has been a frequent guest in Forster-Holt's small business management class over the last two years. Hussey Seating is one of the world's leading manufacturers of spectator seating. They create seating found in sports stadiums and arenas; community event centers; concert venues; local theaters; university classrooms; school gymnasiums and auditoriums. Their product lines include telescopic bleachers, fixed seating, portable staging and portable retractable bleachers.

Hussey Seating is a sixth-generation family owned business. It was started by William Hussey in 1835. The company began operations 56 years before the invention of modern basketball, 45 years before the invention of American football and 40 years before the invention of modern ice hockey.

Kevin Hancock, president of Hancock Lumber was also a featured guest at the event. Established in 1848, Hancock Lumber Company is a sixth generation, family owned business operating a land company, a sawmill division and a retail business. Hussey suggested that Hancock be approached as his conversation partner in the event. Hancock Lumber is one of America's oldest and most distinguished family-owned lumber companies. 

Hancock Land Company is a national leader in timberland management and certified forestry practices. The organization owns and manages over 12,000 acres of certified timberlands in Western Maine. All of their land is open to the public for hiking, hunting, fishing, and recreation. Additionally, their land is managed for multiple uses, with considerations given to water quality, soil quality, wildlife habitat, and forestry. 
For more than 100 years, Husson University has prepared future leaders to handle the challenges of tomorrow through innovative undergraduate and graduate degrees. With a commitment to delivering affordable classroom, online and experiential learning opportunities, Husson University has come to represent superior value in higher education. Our Bangor campus and off-campus satellite education centers in Southern Maine, Wells and Northern Maine provide advanced knowledge in business; health and education; pharmacy studies; science and humanities; as well as communication. In addition, Husson University has a robust adult learning program. For more information about educational opportunities that can lead to personal and professional success, visit Husson.edu.
Back to All Articles