The Gracie to Air Documentary Film About Sexual Assault in the Military
Published on: November 6, 2013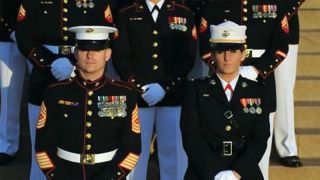 BANGOR, MAINE – November 6, 2013 – The Gracie Theatre at Husson University, Bangor's premier center for the performing arts, will screen the documentary film "The Invisible War" on November 21 at 7:00 p.m. Admission is free and open to the public.

"The Invisible War" (nominated for a 2013 Academy Award®) examines sexual assault in the United States military. According to the filmmakers, a culture of impunity has been allowed to flourish within the armed forces. The motion picture raises thought provoking questions about the effectiveness of attempts made by military leaders to address this issue. 

Directors Kirby Dick and Amy Ziering's film features interviews with both retired and active service members who candidly wrestle with the trauma caused by sexual assault. Scholars and legal experts add their perspectives. Much of the strength and integrity of this documentary rests in the wrenching stories shared by the victims of these crimes.

Called "heartbreaking" by The Washington Post and "exceptional" by the Los Angeles Times, "The Invisible War" (winner of the Audience Award at the Sundance Film Festival in 2013) is, according to The New York Times, "not a movie that can be ignored."

"The purpose of our film series is to raise public awareness about issues that are too often ignored or overlooked within our society. "The Invisible War" does all that and more," said Nico Jenkins, lecturer in ethics and philosophy in the School of Science and Humanities' Ethics and Philosophy Program at Husson University. 

"The Invisible War" is part of a documentary film series presented at the Gracie Theatre at Husson University and hosted by Mr. Jenkins as part of an effort to help stimulate awareness and discussion of critical moral and ethical issues.

For more information about the screening, contact the box office at The Gracie at 941-7888 or visit GracieTheatre.com. 

Completed in October of 2009, The Gracie is Husson University's center for the fine and performing arts. This beautiful new 500-seat theatre is quickly earning a reputation as one of Maine's premier performance venues. In addition, The Gracie also serves as a learning platform for students from the New England School of Communications in digital audio, sound mixing, set design and construction, lighting, acting and electronics. For more information, visit GracieTheatre.com

For more than 100 years, Husson University has prepared future leaders to handle the challenges of tomorrow through innovative undergraduate and graduate degrees. With a commitment to delivering affordable classroom, online and experiential learning opportunities, Husson University has come to represent superior value in higher education. Our Bangor campus and off-campus satellite education centers in Southern Maine, Wells and Northern Maine provide advanced knowledge in business; health and education; pharmacy studies, science and humanities; as well as communication. In addition, Husson University has a robust adult learning program. 
Back to All Articles