"Sounds of The Supremes" Performs Motown Hits at Husson's Homecoming
Published on: October 4, 2013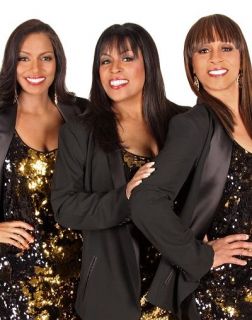 The Gracie Theatre at Husson University, Bangor's premier center for the performing arts, presents Sounds of the Supremes, October 5 at 7:30 pm. The show is dedicated to the Motown hits of the 70s/80s and features Kaaren Ragland, who toured with original Supreme Mary Wilson for eight years. 

The music of Motown, which influenced a generation, has shown itself to be one of the most 
definitive and enduring contributions to American pop music history. This legacy lives on today with Sounds of the Supremes.

Ragland, joined by Kathy Merrick and Althea Burkhalter-Peyton, deliver a non-stop bravura performance filled with a vocal blend of Motown classics, standards, and contemporary songs 
coupled with choreography and glamour. The three women possess more than 40 years of experience in recording, television, cabaret, theater, and musicals.

From "Love Child", to "Stop! In the Name of Love" and "Someday We'll Be Together," this group, backed by a full nine-piece band, performs over 20 Motown favorites. 

Since the late 1980s, the group has performed in over 60 countries and achieved a remarkable degree of worldwide success. They are the only female group of its type whose set includes all of the more than 25 Supremes chart topping hit songs "live in-concert" today. 

In 2007, Sounds of the Supremes released the album "Live At Highclere Castle" in England on Succession Records. "Live At Highclere Castle" is available from iTunes, Amazon.com and online retail outlets. 

The Gracie Theatre is located on the campus of Husson University in Bangor. The concert is 
part of Husson's homecoming weekend and the public is welcome. Adult tickets range from $25.00 - $32.00.

The show takes place Saturday, October 5 at 7:30 pm. Tickets and information can be found at www.gracietheatre.com or the box office at 941.7888. Husson University alumni are invited to contact the alumni director at 404.5653 for discounted rates.

Completed in October of 2009, The Gracie is Husson University's center for the fine and 
performing arts. This beautiful new 500-seat theatre is quickly earning a reputation as one 
of Maine's premier performance venues. In addition, The Gracie also serves as a learning platform for students from the New England School of Communications in digital audio, sound mixing, set design and construction, lighting, acting and electronics. For more information, visit GracieTheatre.com

For more than 100 years, Husson University has prepared future leaders to handle the challenges of tomorrow through innovative undergraduate and graduate degrees. With a commitment to delivering affordable classroom, online and experiential learning opportunities, 

Husson University has come to represent superior value in higher education. Our Bangor campus and off-campus satellite education centers in South Portland, Wells and Presque Isle provide advanced knowledge in business; health and education; pharmacy studies, science and humanities; as well as communication. In addition, Husson University has a robust adult learning program.
Back to All Articles