Husson University to Host Community Breakfast
Published on: October 30, 2013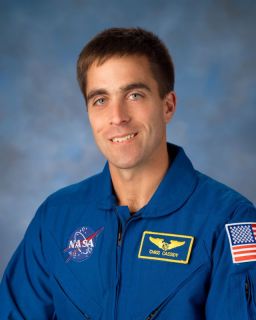 BANGOR, MAINE – October 29, 2013 – NASA Astronaut and Maine native Christopher J. Cassidy, Commander, USN will visit the campus of Husson University on November 7, 2013. 

Cassidy will begin his day participating in a community breakfast where he will speak about his time aboard the International Space Station and the future of manned space flight. The breakfast runs from 7:30 – 9:00 a.m. Members of the public are welcome to attend.

Following the breakfast, Cassidy will speak to two groups of young students from 14 schools in the greater Bangor area and share his thoughts on the importance of education. "These motivational events are designed to inspire students to greatness. We want to show students that there are no limitations to what you can accomplish in life," said Barbara Moody, Director of Teacher Education Programs at Husson. "It truly is possible to make your dreams a reality. Commander Cassidy is a living example that people can achieve their goals if they are willing to study and work hard." Nearly 1,000 students will participate in these two events. 

"Husson University believes in the importance of supporting our youth and our community," said Husson President Robert Clark. "We are also a university with one of the state's best teacher education programs. Sponsoring this event provides us with an opportunity to give back to area school systems and the dedicated professional educators who have done so much."

Commander Christopher J. Cassidy is a graduate of York High School in York, Maine. In 1993, he earned a Bachelor of Science degree in mathematics from the U.S. Naval Academy. Seven years later, he completed his Master of Science studies in ocean engineering from the Massachusetts Institute of Technology (MIT).

Prior to becoming an astronaut, Cassidy had a distinguished career in the U.S. Navy. He was a member of the U.S. Navy Seals for 10 years. Here, he received training in specialized tactics including long-range special reconnaissance; direct action building assaults; noncompliant ship-boardings; combat diving; underwater explosives; and a variety of air operations. He completed four six-month deployments: two to Afghanistan and two to the Mediterranean. 

Cassidy logged more than 200 hours underwater as a pilot/navigator/mission commander of a two-man flooded submersible SEAL Delivery Vehicle – an underwater craft that is launched and recovered from a submarine.

In recognition of his military service, Cassidy received two Bronze Stars and a Presidential Unit Citation – including one Bronze Star for combat leadership service in Afghanistan. 

He was selected for astronaut candidate training by NASA in May 2004. Completed in February 2006, Cassidy's training included scientific and technical briefings, intensive instruction in shuttle and International Space Station systems, physiological training, T-38 flight training, and water and wilderness survival training. This initial training qualified him for various technical assignments within the Astronaut Office at NASA and future flight assignments as a mission specialist. From 2006 – 2008, Cassidy served as a capsule commander in Mission Control.

In 2009, he completed his first space flight, the STS-127, International Space Station Assembly Mission where he logged more than 376 hours in space, including more than 18 hours of extra-vehicular activity during three spacewalks.

On March 28, 2013, Cassidy lifted off for his second trip to the Space Station from Kazakhstan along with two Russian cosmonauts. The three crew members were the first to complete a trip to the space station in less than six hours. Ordinarily, it takes two days to rendezvous and dock at the space station.

During his NASA career, Cassidy has completed six spacewalks, totaling 31 hours and 14 minutes. He has spent a total of 182 days in space. He is recipient of NASA's Exceptional Achievement Medal.

For more information or to make reservations for the breakfast, please contact Julie Green, Director, Public Affairs and Government Relations, Husson University at 207-941-7129 or greenj@husson.edu 

For more than 100 years, Husson University has prepared future leaders to handle the challenges of tomorrow through innovative undergraduate and graduate degrees. With a commitment to delivering affordable classroom, online and experiential learning opportunities, Husson University has come to represent superior value in higher education. Our Bangor campus and off-campus satellite education centers in South Portland, Wells and Presque Isle provide advanced knowledge in business; health and education; pharmacy studies, science and humanities; as well as communication. In addition, Husson University has a robust adult learning program. 
Back to All Articles