Husson University Honors Four at Alumni Hall of Fame Event
Published on: October 31, 2013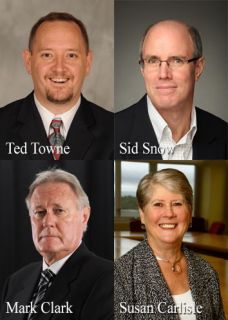 BANGOR, MAINE – October 30, 2013 – On Friday, October 4, Husson University inducted three prominent business professionals into the institution's prestigious Alumni Hall of Fame. In addition, the university celebrated the achievements of a local philanthropist by making her an honorary alumna. 

Husson University President and CEO, Dr. Robert Clark, CFA, said, "Each of these special individuals have brought distinction to themselves and their alma mater through their devotion to education and professionalism. Their personal and career achievements, as well as their support for our university and its mission, made them worthy of recognition."

Inductees into the Alumni Hall of Fame included:

• Mark W. Clark, owner and president of Monogram Building and Design, Inc., a privately owned company that remodels and builds semi-custom and custom homes on Maryland's Eastern shore. Clark graduated from Husson in 1967 with a Bachelor of Science in Business Administration.

• Sidney H. Snow, president and CEO of Snow's Home and Garden, "The Lower Cape's Family Department Store." Snow earned a Bachelor of Science degree in Business Administration from Husson in 1976.

• Ted Towne, vice president of finance for the Washington Nationals, a Major League Baseball team. Towne graduated from Husson University in 1996 with a degree in accounting. 

Susan A. Carlisle was named an Honorary Alumna at the event. Carlisle and her husband David created an endowed scholarship at Husson University that each year is awarded to a student from northern Penobscot County, preferably from Penobscot Valley High School.

Plaques honoring this year's Alumni Hall of Fame recipients will be displayed prominently, along with plaques of other past honorees, in the hall immediately adjacent to the Anderson Alumni Lounge on the first floor of the Beardsley Meeting House on Husson University's campus in Bangor, Maine. This hall features every Alumni Hall of Fame recipient since the award's inception.

For more than 100 years, Husson University has prepared future leaders to handle the challenges of tomorrow through innovative undergraduate and graduate degrees. With a commitment to delivering affordable classroom, online and experiential learning opportunities, Husson University has come to represent superior value in higher education. Our Bangor campus and off-campus satellite education centers in South Portland, Wells and Presque Isle provide advanced knowledge in business; health and education; pharmacy studies, science and humanities; as well as communication. In addition, Husson University has a robust adult learning program.
Back to All Articles