80's Film Icon Molly Ringwald to Perform Jazz Favorites at Husson University's Gracie Theatre
Published on: October 24, 2013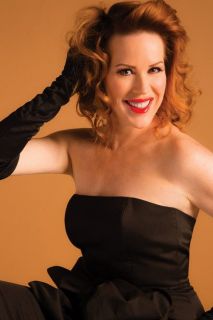 Favorite 80's teen movie queen Molly Ringwald will perform hits from her recent jazz CD at Husson University's Gracie Theatre on November 23rd. "An Evening with Molly Ringwald" features the song stylings of Ringwald and the music of her jazz quartet – with two performances at 4:00 pm and 7:30 pm. 

"This soul-stirring jazz performance will bring a touch of Hollywood to Bangor," said Jeri Misler, managing director of the Gracie Theatre. "As a young fan of Sixteen Candles and The Breakfast Club, and a current fan of her two books, I'm looking forward to Molly sharing her love of music with a Maine audience."

The Molly Ringwald Quartet includes Ringwald on vocals, Musical Director Peter Smith, on piano, plus a bass musician and a drummer. Her debut CD, Except Sometimes, released earlier this year, received rave reviews. The Huffington Post described Ringwald's voice as "unaffected, clear, and at moments, vulnerable," and further added, "she coaxes complexity from her honeyed mezzo-soprano."

Her Gracie performance will feature the album's soft-jazz interpretation of "Don't You (Forget About Me)," the theme song from The Breakfast Club among other jazz standards from the release. 

Ringwald's passion for jazz and singing started at a young age. According to Ringwald, "I grew up in a home filled with music and had an early appreciation of jazz since my dad was a jazz musician [pianist Bob Ringwald]. At around age three, I started singing with his band. Jazz music has continued to be one of my three passions along with acting and writing. I like to say jazz music is my musical equivalent of comfort food. It's always where I go back to when I want to feel grounded."

Ringwald is best known for her roles in the John Hughes' motion pictures Sixteen Candles, The Breakfast Club, and Pretty in Pink. After the success of those and subsequent films including Stephen King's The Stand, Ringwald moved to Paris and appeared in several French films.

In 1997, Ringwald returned to the theater in New York City where she starred in Paula Vogel's Pulitzer Prize winning play, How I Learned to Drive, a role she later reprised at the Mark Taper Forum in Los Angeles. Subsequent theater credits include playing the legendary "Sally Bowles" in the Broadway production of Cabaret; the Tony-nominated Broadway production of Enchanted April; and the London production of When Harry Met Sally. She also starred as 'Charity Hope Valentine' in the Broadway national musical revival tour of Sweet Charity. 

More recently, Molly starred in the breakout hit, The Secret Life of the American Teenager on the ABC Family Channel. Currently, she can also be found promoting her second novel, the national bestseller, When It Happens to You. 

Tickets for An Evening with Molly Ringwald start at $25.00 for balcony seats and $32.00 for orchestra seating. Visit www.gracietheatre.com or call the box office at 941.7888 to reserve a seat for this special performance.

Completed in October of 2009, The Gracie is Husson University's center for the fine and performing arts. This beautiful new 500-seat theatre is quickly earning a reputation as one of Maine's premier performance venues. In addition, The Gracie also serves as a learning platform for students from the New England School of Communications in digital audio, sound mixing, set design and construction, lighting, acting and electronics. For more information, visit GracieTheatre.com

For more than 100 years, Husson University has prepared future leaders to handle the challenges of tomorrow through innovative undergraduate and graduate degrees. With a commitment to delivering affordable classroom, online and experiential learning opportunities, Husson University has come to represent superior value in higher education. Our Bangor campus and off-campus satellite education centers in South Portland, Wells and Presque Isle provide advanced knowledge in business; health and education; pharmacy studies, science and humanities; as well as communication. In addition, Husson University has a robust adult learning program.
Back to All Articles