The Gracie Goes Country with Steel Magnolia
Published on: September 4, 2013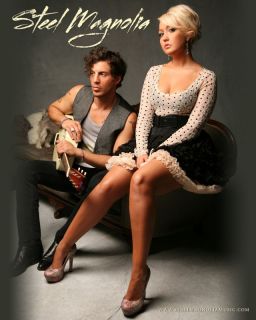 BANGOR, MAINE – September 3, 2013 – The Gracie Theatre, Bangor's premier center for the performing arts, opens its 2013/14 season with the country vocal duo Steel Magnolia. This Academy of Country Music award-winning group and their band will perform Saturday, September 14 at 7:30 pm. The Gracie Theatre is located on the campus of Husson University.

"Steel Magnolia's tight vocals and electric stage presence make for a fantastic concert experience, particularly in the Gracie's intimate setting." said Jeri Misler, managing director of Gracie Theatre. "The concert, sponsored by Dead River Company, will feature hits from their debut album, plus new tracks country fans will love." 

Joshua Scott Jones and Meghan Linsey teamed up to create the duo known as Steel Magnolia. They have been making a name for themselves in the country music world since their first place win on the Country Music Television (CMT) show Can You Duet. Since then, Steel Magnolia has earned nine major industry award nominations, including Vocal Duo of the Year and Top New Vocal Duo of the Year from the Academy of Country Music and the Country Music Association. Steel Magnolia has toured alongside Brad Paisley, on his massively popular H20 Tour, Reba McEntire, Blake Shelton, and appeared on the Late Show with David Letterman, Jimmy Kimmel Live! and Lopez Tonight.


After the duo's bracing take of "Keep On Lovin' You" made Billboard history, the song landed in the major motion picture, Valentine's Day. Their self-titled album, released in January 2011, debuted in the Top 10 of the pop and country album charts while their singles, "Just By Being You (Halo and Wings)" and "Last Night Again" both became Top 30 hits. Produced by Big Machine, Steel Magnolia's current album contains an eclectic variety of genre-defying tracks and songs that pay homage to the country music tradition. Seven of the twelve tracks were penned by the duo.

The concert marks the first show in the Gracie Theatre's second season. This season's performances at The Gracie are being made possible, in part, thanks to a generous sponsorship from the Bangor Savings Bank. Additional shows this season include An Evening with Molly Ringwald, the touring Broadway company of Forbidden Broadway, and an appearance by Paul Reiser, actor and stand-up comedian. 

Tickets for the concert and season shows are $25-32.00 and are available at GracieTheatre.com or by calling 941-7888. 

Completed in October of 2009, The Gracie is Husson University's center for the fine and performing arts. This beautiful new 500-seat theatre is quickly earning a reputation as one of Maine's premier performance venues. In addition, The Gracie also serves as a learning platform for students from the New England School of Communications in digital audio, sound mixing, set design and construction, lighting, acting and electronics. For more information, visit GracieTheatre.com

For more than 100 years, Husson University has prepared future leaders to handle the challenges of tomorrow through innovative undergraduate and graduate degrees. With a commitment to delivering affordable classroom, online and experiential learning opportunities, Husson University has come to represent superior value in higher education. Our Bangor campus and off-campus satellite education centers in South Portland, Wells and Presque Isle provide advanced knowledge in business; health and education; pharmacy studies, science and humanities; as well as communication. In addition, Husson University has a robust adult learning program.
Back to All Articles