Husson University Attracts Student Applicants From 32 States and 28 Foreign Countries
Published on: September 3, 2013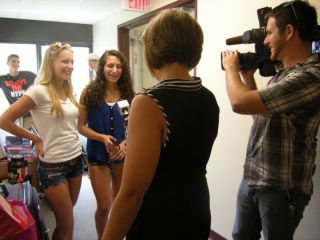 BANGOR, MAINE – August 30, 2013 – This weekend, Husson University will welcome returning sophomores, juniors and seniors as well as the freshman class of 2017 to their Bangor campus. Students attending the educational institution this year were selected from a pool of applicants from 32 states and 28 countries. 

Husson University has experienced enormous growth during the past 10 years. In fact, the 
number of full-time undergraduate students enrolled at the educational institution has more than doubled over the past decade.

"Having a geographically diverse student body at Husson University offers a broader educational experience to our students," said Dr. Robert A. Clark, President and CEO of Husson University. "Schools that attract students from across the world provide opportunities to learn about other cultures, ideas, music, food, and traditions. This knowledge is essential for our graduates to compete in today's worldwide economy."

A 2005 U.S. Census Bureau report on exports from manufacturing establishments states that the U.S. economy is becoming more globally connected. Today, one in five jobs in this country is tied to international trade and this trend is expected to continue.Clark continued: "Geographic diversity not only brings an enormous amount of energy and vitality to both Husson University and the greater Bangor community, it helps our students develop a deeper understanding of the world's economic, social, and political issues. We look forward to another productive year of helping individuals prepare for successful careers."

New faculty members are also getting ready to begin the academic year. According to Provost 
Lynne Coy-Ogan, "Husson University continues to attract educational leaders from across the country. The combination of in-depth academic knowledge and real world experience that they bring to the classroom, makes Husson University an exciting and dynamic learning environment."

Students interested in living on campus have the opportunity to reside in Hart, Carlisle or BellResidence Halls. In addition, the University's Living Learning Center offers four floors of suitestyle living for 244 students. The Living Learning Center is unique on campus in that it also contains five experiential learning classrooms. This combination of housing and educational space provides a unique, holistic learning environment for students.

While attracting a strong residential community on its One College Circle campus is important, 
Husson also welcomes both traditional and nontraditional students who live off campus. The 
University is committed to engaging all of its students in the broader community. To date, Husson students have devoted thousands of hours to community-based projects, including Habitat for Humanity, Ronald McDonald House, food banks and other social initiatives. In addition, students devote time to community organizations as part of internships, practicums and other professional development experiences.

For more than 100 years, Husson University has prepared future leaders to handle the challenges of tomorrow through innovative undergraduate and graduate degrees. With a commitment to delivering affordable classroom, online and experiential learning opportunities, 
Husson University has come to represent superior value in higher education. Our Bangor campus and off-campus satellite education centers in South Portland, Wells and Presque Isle provide advanced knowledge in business; health and education; pharmacy studies, science and humanities; as well as communication. In addition, Husson University has a robust adult learning program.
Back to All Articles