Marie E. Hansen, JD, PhD. Named Dean of the College of Business at Husson University
Published on: August 27, 2013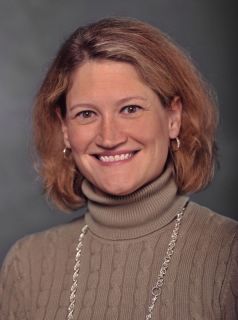 BANGOR, MAINE – August 27, 2013 – Husson University announced today that Marie E. Hansen, JD, PhD, has been named dean of the College of Business at Husson University. Hansen had been serving as the interim dean since January 2013 and was recently selected to fulfill this role on a permanent basis after an exhaustive national search.

As dean, Hansen will be responsible for determining the educational curricula priorities; supervising the full and part-time business faculty on all four of Husson University's campuses; creating and implementing all personnel, non-personnel and capital budgets, as well as developing and articulating all strategic planning associated with the College of Business.

When asked about her appointment, Hansen stated, "I am honored to be the next dean and lead the College of Business at Husson University. Our faculty possesses an impressive depth of knowledge and expertise about a wide array of disciplines. In addition, their dedication to online, traditional and experiential learning creates a challenging and innovative learning environment that fosters effective student learning and professional success."

"I believe the College of Business is an important key to building career opportunities for both our graduates and our state. I look forward to partnering with students, faculty and members of the community to advance the mission of the college as one of the premier providers of professional education in Maine," continued Hansen.

Hansen brings over 14 years of educational and legal experience to her new position. She began working at Husson in 2003 as director of the Criminal Justice and Paralegal Studies programs. Five years later, she was named chair of the Legal Studies and Social Sciences programs.

In 2009, Hansen was promoted to associate professor and associate dean of the School of Law and Legal Studies at Husson University. Just one year later, she was named associate dean/executive director of administrative affairs in the College of Business and director of the School of Legal Studies. She held this position until January of 2013 when she was named interim dean. During her time at Husson, she has delivered a variety of classes in over 32 topics ranging from introductory courses through graduate level in the Business, Criminal Justice and Paralegal programs.

Prior to joining Husson University, Hansen was an adjunct instructor at Beal College in Bangor, Maine where she taught business law, constitutional law and paralegal studies. 

Hansen also has extensive legal experience. She has provided legal counsel to clients of the Wiley Law Offices in Bangor since 2000. In addition, Hansen has served as a CJA counsel for the First Circuit Court of Appeals in Boston, MA; a guardian ad litem; and a rostered mediator and arbitrator since 2001.

She has earned several distinguished awards including the Husson University Service Award for Outstanding Service to the University (2010), the American Association for Paralegal Education Award for Outstanding Service (2010 – 2012) and the Scales of Justice award from the National Association of Legal Professionals (NALS) (2007). 

Hansen has presented interdisciplinary courses at Husson University in the Schools of Pharmacy and Science and Humanities as well as in the community, through the Penobscot Bar Association, the Maine State Bar and at national conferences. She is also the co-editor in chief of the Business Law Review Journal. 

She earned her undergraduate degree in Political Science, with a minor in Public Administration and the Honors Program from the University of Maine. Hansen returned to Bangor to practice law after she earned her Juris Doctorate degree from the University of Maine School of Law. She completed the Institute for Management and Leadership in Education at Harvard University in 2010 and attained mastery level of Prior Learning Assessment through DePaul University. She also has earned her doctorate degree in Organizational Leadership at the Chicago School for Professional Psychology. 

Outside of Husson University, Hansen is a member of the board of trustees at the Maine Criminal Justice Academy and the board of directors for the Penobscot County Bar Association. She is also the past-president (2004) of the Penobscot County Bar Association (PCBA) and past vice president of the board of directors for the Bangor Ballet (2011). Additionally, she serves on advisory committees for various criminal justice, legal and business programs at technical centers throughout the state.

For more than 100 years, Husson University has prepared future leaders to handle the challenges of tomorrow through innovative undergraduate and graduate degrees. With a commitment to delivering affordable classroom, online and experiential learning opportunities, Husson University has come to represent superior value in higher education. Our Bangor campus and off-campus satellite education centers in South Portland, Wells and Presque Isle provide advanced knowledge in business; health and education; pharmacy studies, science and humanities; as well as communication. In addition, Husson University has a robust adult learning program. For more information about educational opportunities that can lead to personal and professional success, visit Husson.edu.
Back to All Articles