Potted Potter Comes to Husson University's Gracie Theatre
Published on: January 17, 2013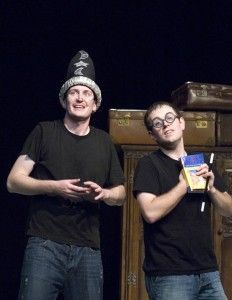 Look out Harry Potter Fans! Potted Potter, the New York Times Critic Pick, is coming to Bangor for two shows on Sunday, January 27 at 3:00 and 8:00 pm. Potted Potter – The Unauthorized Harry Experience – A Parody by Dan and Jeff takes on the ultimate challenge of condensing all seven Harry Potter books, including a real life game of Quidditch, into seventy hilarious minutes. Playing to sold-out houses all over the world, the show, written and performed by two-time Olivier Award-nominated actors Daniel Clarkson and Jefferson Turner, is perfect for ages six to Dumbledore, who is very old indeed.

You don't need to know all the plot twists and nuances of Hogwarts to enjoy the jokes. The New York Times critic writes, "Potted Potter grew from a five-minute street sketch recapping the first five books that the two created in 2005 to entertain Potter fans lined up for the release of the sixth Potter book. When they expanded it with runs in the West End in London and in Toronto, it took on the flavor of Monty Python meets vaudeville. Even if you don't know the difference between a horcrux and a Hufflepuff, Potted Potter will make you roar with laughter."

Channeling Harry's signature eyewear, paper Potter glasses will be distributed at each performance which adds to the fun. In addition, Dan and Jeff interact with the audience 15 minutes before the show starts. "They like getting the fans ready for a great time by creating 'Harry fever'." reports Jeri Misler, managing director of the Gracie Theatre. "In fact, the Gracie is having its own fun marketing the show," continues Misler. "Earlier in the month, we sponsored a children's live owl program at the Bangor Public Library and delivered free tickets to the show delivered by owl. The program was huge success."

Though the Potter books and films have all been made, there are still many fans for whom Harry is near and dear. This show will bring laughter and a fond remembrance of the characters many of the audience members grew up with. "You're never too old to enjoy Harry Potter," says Misler. 

Tickets for the show are available online at gracietheatre.com or at the theatre's box office located on Husson's campus. For information call the box office at 941.7888.

For more information about this release, please contact Executive Director of University Communications Amanda Kitchen at kitchena@husson.edu or 207.992.4925.
Back to All Articles