Graphic/Visual Design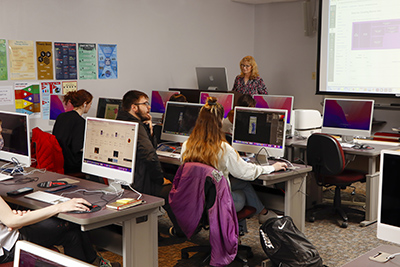 Graphic designers use technology and design principles for visual storytelling. Today's graphic designers need to have a strong foundation in design, but they also need to be trained in the latest new technology as the field expands into areas such as user experience (UX) and information design. 
REQUEST INFO
As a student in the Graphic/Visual Design program, you'll develop your visual communication skills through studies in traditional areas such as art and design, illustration and typography. You'll also study information design, user experience and web imaging, as well as animation, video production and augmented reality. 
Your classes will be held in state-of-the-art learning facilities where you can really dive in and learn hands-on using the latest in technology. These include the Gracie Theatre, New England School of Communications studios, and the Interactive Experience Center (IEX Center).
For more information
Name

Phone and Email
Address
Theresa Ayotte, MA
Assistant Professor - Graphic/Visual Design Program Coordinator

207.941.7913
ayottet@husson.edu
101A Wildey Communications Center
Husson University
1 College Circle
Bangor, Maine 04401
Louise Grant
Associate Director of Admissions

207.973.1093
grantl@husson.edu
122 O'Donnell Commons
Husson University
1 College Circle
Bangor, Maine 04401
Melissa Rosenberg
Director of Admissions

207.404.5660
rosenbergm@husson.edu
121 O'Donnell Commons
Husson University
1 College Circle
Bangor, Maine 04401