Graphic/Visual Design
A graphic design degree with vision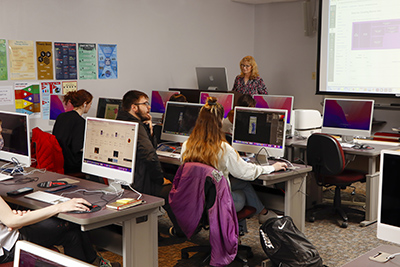 We've added "visual" into the name of our graphic design degree – for good reason. Today's graphic designer needs to think beyond traditional graphic design to create visuals for a variety of emerging media. Our Bachelor of Science in Graphic/Visual Design combines art and design with the latest technology to ensure you are prepared to work in a wide range of visual communication fields.
REQUEST INFO
Design for a spectrum of visual media
You'll begin by learning about the foundations of creating designs with impact by taking classes in Art and Design Foundations, Graphic Design, Typography and Digital Illustration. In these courses, you'll apply design principles to logos, posters, publications, package designs, T-shirts, displays and infographics.

Then you'll expand your creativity to places you may never have imagined with classes like Design Thinking and Innovation, User Experience Design, 3D Modeling, Animation and Motion Design, Data Visualization and Extended Reality. With specialized software, you'll design the interface for a mobile app, create an animation for a video, and generate a 3D model for virtual reality.

Students in the Graphic/Visual Design program will develop skills to work as graphic designers, digital artists, user experience designers, web designers, interaction designers, motion designers, visual designers and more. You'll work with real-world clients in a number of classes and maybe even work as an art director in Husson's very own student-run, in-house marketing agency – One Circle Agency.
Add to your portfolio by customizing your degree
While working on your bachelor's degree, you can earn certificates in specialized areas, such as Marketing Communications, Photography, User Experience Design, Web Design and more. These stackable credentials look great on résumés. By the time you leave school, you'll have built a professional portfolio showcasing a broad range of design skills in multiple disciplines.
For more information
Name

Phone and Email
Address
Theresa Ayotte, MA
Assistant Professor - Graphic/Visual Design Program Coordinator

207.941.7913
ayottet@husson.edu
221 Wildey Communications Center
Husson University
1 College Circle
Bangor, Maine 04401
Louise Grant
Associate Director of Admissions

207.973.1093
grantl@husson.edu
122 O'Donnell Commons
Husson University
1 College Circle
Bangor, Maine 04401
Melissa Rosenberg
Director of Admissions

207.404.5660
rosenbergm@husson.edu
121 O'Donnell Commons
Husson University
1 College Circle
Bangor, Maine 04401