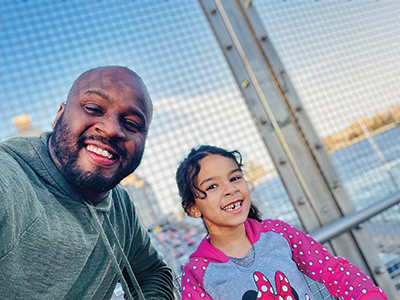 The West Bronx in New York City was a tough place for Fabian Figueroa '09, '14G to grow up. "It taught me how to have a thick skin, who to hang with and how to project a certain edge," he said.
As a child, his mom was an important role model.
"Even though she came to America as a 15-year-old immigrant who couldn't speak English, she successfully raised me and my brother," Figueroa said. "Mom believed in hard work and the importance of being responsible and self-sufficient."
Coming to Husson was big change for Figueroa. "I had to adapt to a place that was very different from New York. Despite having diverse backgrounds, my classmates and I were all able to come together," he said.
Figueroa credits two people at Husson with helping him "learn how to be a good man." The first was basketball coach Warren Caruso.
"He taught me important life lessons, like the importance of preparation, timeliness and leadership." Figueroa said.
The second was Dr. Lee Speronis.
"The real-world case studies and concepts he emphasized stuck with me," Figueroa continued. "When I entered the business world, I thought, 'Hey, I learned this in Lee Speronis's class.'"
Today, Figueroa is an area manager II for Amazon Logistics and runs one of the company's stations in New York City. His station delivers 40,000 to 50,000 packages a day to nearby Amazon customers.
"During Amazon Prime Day and the holidays this number increases to 80,000 packages a day. It's an aggressive, high-paced job that requires a lot of attention to logistics," he said.
Figueroa is working on being a good role model to others, including his six-year-old daughter Natalia and his brother Chris Figueroa '13.
"I want to make a positive impact on the next generation, the way my role models did for me," Figueroa said. "The most important thing in my life right now is being a good dad."