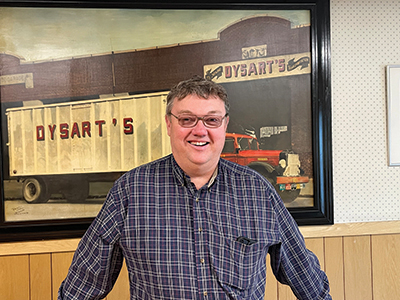 If you live in Central Maine, you've heard of Dysart's. Since 1967, this restaurant and truck stop has served outstanding food, fuel and truck services to anyone traveling I-95. In 2014, Dysart's expanded to a second location in Bangor on Broadway, just down the road from Husson University.
"I was born in 1969, a few years after the business began," Tim Dysart '93, vice president of Dysart's, said. "Growing up, the business was fairly short-staffed. As a kid, I did my best to help out. Over time, I've done practically everything there is to do including washing trucks, running the counter in the garage and stocking shelves."
With his responsibilities at Dysart's growing, Tim made the decision to get a practical business education that focused on managing in the real-world. Enrolling at Husson, he earned a Bachelor of Science in business administration with a concentration in marketing in 1993.
"I had a really good experience as a Husson student," Dysart said. "Unlike other students, I didn't live on campus and didn't get involved in the day-to-day activities because I was working full-time at the family business. Despite that, I felt like my professors helped me get the best education possible."
"My degree gave me a more worldly perspective on business and marketing. That included looking ahead and avoiding the mindset that says, 'this is how we've always done it before.' The pandemic brought that into sharp focus. We had to adapt quickly," Dysart continued.
"In one day, we went from being a full-service, sit-down restaurant to only offering take-out. It was a big challenge, especially when you've got lots of crew you want to keep so they'll be there when the pandemic's done," he said.
"Upon reflection, I'd advise other managers to always be ready to adapt to changing conditions. It's something we covered in my classes at Husson that proved to be invaluable," Dysart concluded.