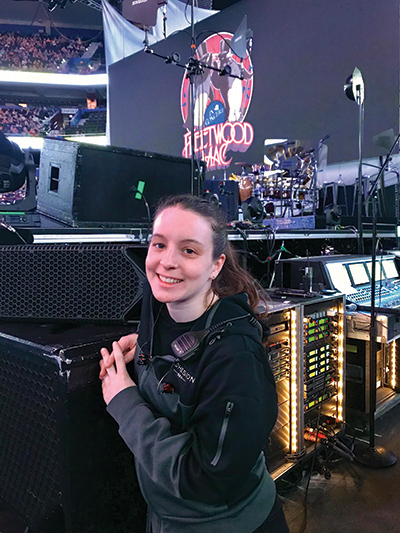 When Amy Bammarito '17 was in high school, people asked, "What do you want to be when you grow up?" She knew she wanted to do something with music but was never one for performing. After being part of stage crew in high school, she started looking into the technical side of music production and subsequently enrolled in the live sound program at Husson University's New England School of Communications (NESCom).
"My favorite professor was Eric Ferguson," Bammarito said. "He was super cool, funny and his classes were pretty chill. If there was something I had trouble wrapping my brain around, I could just talk to him and he'd help me understand the concepts."
She also felt that the "The Nite Show with Danny Cashman" was a great experience. "In your first year, you get a foundation of knowledge by helping out with the little things. By senior year, you know all the ins and outs."
After graduating from Husson, she got a job with Clair Global, a company that provides audio systems and staff for major concerts. Being a graduate of NESCom helped her get her foot in the door.
"When someone sees NESCom on your resume, it's instant credibility. At Clair Global, they know the school and have gotten good people from Husson. That helps you get your start," Bammarito said.
In the five years since graduation, as a member of the Clair Global team, Bammarito has been a technician and part of the road crew for elite clients like Fleetwood Mac, Phish and James Taylor. Her experiences include everything from providing audio support for Jon Bon Jovi in his personal recording studio to setting up speakers for the Rolling Stones in Gillette Stadium. "It's a lot of fun. If that weren't the case, I wouldn't keep going out on tour," she said.