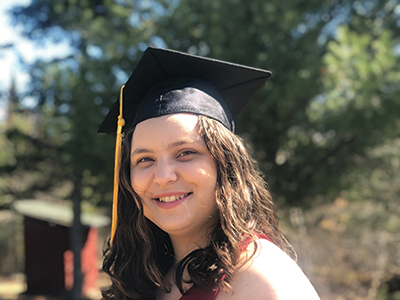 When Kim Flanagan '22 was five years old she used to line up her two older brothers and sister and pretend she was their teacher.
"They already knew more than me," Flanagan recalled, laughing, "but I would still try my best to teach them things."
Nearly 20 years later, she's still passionate about teaching young people. Flanagan graduated this spring with a bachelor's degree in elementary education from Husson University's School of Education.
"Every time I told people I wanted to be a teacher, I'd hear—'Well you know, you're not going to make any money,'" Flanagan said. "And somewhere along the way, I decided that doesn't matter to me."
She says attending college during a pandemic further strengthened her determination to help others learn.
"Because I've been the teacher as well as the student, I can relate to those who got bored just watching videos during remote learning," Flanagan explained. "It's definitely made me a more effective and engaging teacher."
Flanagan is originally from Rhode Island. While in high school, she received a postcard from Husson
and immediately liked what she saw.
"They were holding tours on campus so I went into my living room and told my dad—pack your stuff, we're taking a road trip," Flanagan said.
She recalls the exact moment the choice to attend Husson was solidified.
"I distinctly remember my tour guide, who was a student at the time," Flanagan said. "She would pass by groups of people and say— 'Oh hey, see you later in class.' It's that community feeling that everyone attributes to Husson. It's so cliche, but it's true."
Flanagan plans to be teaching in a classroom this fall. She credits her siblings for supporting her as a teacher-in-training for years.
"I tell them—I know it was super irritating to have your little sister trying to teach you about the alphabet even though you already knew it," Flanagan said. "But look—it paid off."