Family and Friends Weekend

Save the Date!
Join us on October 28, 29 and 30 for a weekend full of events and activities for families and friends to join with their students!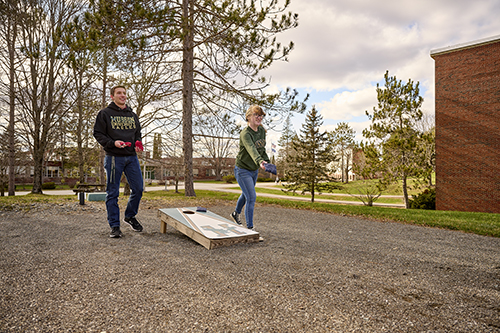 Friday, October 28

5 – 6:30 pm – Welcome Reception, Harold Alfond Hall, Hub
Kick off the Family & Friends weekend, meet your students' Dean, members of the Husson faculty and staff, and enjoy free local beverages and light appetizers.

7 – 8:30 pm - Family Fun Student Activity, Furman Student Center
Survey says…Students, Family & Friends can win fabulous prizes with this "Family Feud" style game.
Saturday, October 29

7:30 – 8:30 am - President's Breakfast, Dickerman Dining Commons (DDC)
Enjoy a free breakfast at the Dining Commons, and meet University President, Dr. Robert Clark.

8:30 – 9:10 am - Friends and Family Classes
9:20 – 10:00 am - Friends and Family Classes
Want to experience what students are learning on campus?  Join us for these informal sessions led by Husson faculty members.
Day in the Life of a Legal Studies Student, Harold Alfond Hall 233 & 237
Experience the simulation lab used by criminal justice students to prepare for real world crime scene processing, investigation and analysis using the stress simulators and forensic science laboratory.
Esports Gaming Arena, 122 Darling Learning Center
Visitors can enjoy our new Esports Arena, learn about our Esports program, and try their hands at a game or two of Rocket League or other games.
Extended Reality (XR), iEX Center in Harold Alfond Hall (9:20 am – 10 am session only)
XR is the next cutting-edge technology frontier. It merges digital space with physical space. Experience this cutting-edge technology in our iEX Center.
Experiential Investing, Ronan Center in Harold Alfond Hall (9:20 am – 10 am session only)
See the lab where students learn more about investing. This classroom is where Husson students hone their skills managing the Husson Investment Fund and invest approximately $1, 000,000 of real money.
Hospitality Simulation, Harold Alfond Hall 251
Experience the simulation lab used by hospitality and tourism management students to prepare for real-world scenarios.
House of Horrors, Nursing Simulation Lab, O'Donnell Commons 217
See and experience our computer-controlled patient with a Halloween twist. This human simulator is used to create a customized situation/scenario that mimics what students will experience caring for a real patient.
A Look behind the Scenes...Broadcasting a Live Husson Eagles Television Production, Behind the NESCom Building
Take an in depth look at the people, equipment and technology behind making a Husson University television broadcast and stream so successful. This overview will give a unique perspective of how students work with instructors and industry professionals utilizing cameras, audio, graphics, instant replay, and fiber transport technology.

10:00 – 12:00 pm - Friend & Family Pre-game Huddle Tent
Join us in the Huddle Tent to enjoy a warm beverage, some food, take photos with your students and Baldwin, and get ready for the big game. While there register for raffle prizes and some great Husson swag!

12:00 pm – Football vs. Western New England, Winkin Complex
Cheer on the Husson Eagles as they take on the Golden Bears of Western New England. Advanced tickets are not required, and admission is free.
No tickets are required, admission is free.
1:00 – 4:30 pm – eSports Play, Darling Learning Center, Room 122
Explore Husson University's state of the art eSports Center. Hear from current athletes about what it is like being part of an eSports team. Experience competition firsthand through friendly competition.

4:30 – 5:30 pm - Legacy Family Reception for Legacy Scholar Recipients
Are you a Husson alum? We invite you and your students to attend the Legacy Family Reception. RSVP is required, call (207) 941-7170 to register or RSVP here

7:00 – 8:30 pm - Husson's Got Talent, Gracie Theatre
Cheer on our students as they showcase their talents, vote for the Crowd Favorite, and register to win prizes.
Sunday, October 30
9 – 10:00 am Farewell Continental Breakfast, Harold Alfond Hall, Lower Level
1:00 pm - Women's Field Hockey vs UM Farmington, Winkin Complex
Tell us you're interested