Family and Friends Weekend

Save the Date!
Join us on October 27, 28 and 29, 2023 for a weekend full of events and activities for families and friends to join with their students!
Friday, October 27
5:00-6:30 PM – Welcome Reception – Campus Center & Peabody Courtyard Yard
Kick off the Family & Friends Weekend. Beverages & light appetizers will be served.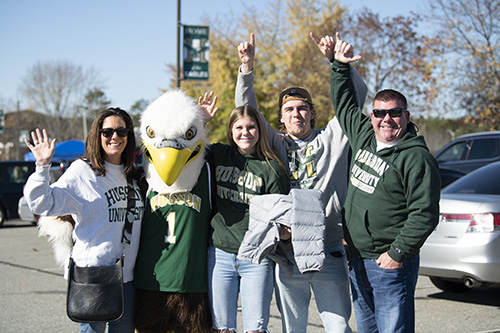 7:00-8:30 PM – Family Fun Activity: Name that Tune across the Eras, Furman Student Center
Students, Family & Friends can win fabulous prizes with this "family" tune challenge.
7:30 PM – Material Girls Show, Gracie Theatre
Musical tribute to Lady Gaga, Cher, Madonna, Adele, and more.
Discounted student tickets available at the Gracie Box Office or purchase on-line here and use Husson Gold for a 10% ticket discount.
Saturday, October 28
7:30- 9:00 AM – President's Breakfast, Dickerman Dining Commons (DDC) 
Enjoy a free breakfast at the Dining Commons and meet University President Dr. Robert Clark
10:30 - 1:00 PM – Family & Friends Eagle Nest Pre-Game Huddle – Frances M O'Keefe Hitting Pavilion
Join us under the Pavilion for warm beverages, a Husson photo op, and raffle registration for some great Husson swag.
12:00 PM – Football vs. Endicott College, Winkin Complex - No Tickets Required.
12:00 PM – Men's Soccer NAC East Semifinal (Husson vs. Thomas)
1:00 - 5:00 PM – Esports Play across the Eras, Esports Arena, Darling Learning Center (DLC), Room 122
Drop into our brand new Arena and enjoy the exciting world of esports, offering various video games spanning the decades from the 1980s to the 2020s for our Family & Friends Weekend! Visiting our new facility is a fun way to bond with family and friends with nostalgia-filled gaming experiences for both seasoned and new gamers alike.
2:00 – 5:00 PM - SK Tours: The Derry Maine Tour – purchase tickets here.
4:30 PM – Field Hockey NAC Semifinal  (Husson v. Maine-Farmington)

7:00 - 8:30 PM – Husson's Got Talent, Gracie Theatre
Cheer on our students as they showcase their talents and vote for the crowd favorite
Sunday, October 29
10:00-11:00 AM – Brunch at Dickerman Dining Commons (DDC)
Enjoy a free brunch at the Dining Commons before leaving campus.
12:00 PM – Volleyball vs. Lesley 
1:00 PM – Men's Soccer NAC East Final
4:00 PM– Field Hockey NAC Final