William J. Lindblad, PhD
Professor of Pharmaceutical Sciences, Director of Office of Research and Scholarship College of Health and Pharmacy School of Pharmacy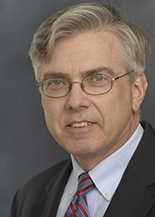 Contact:
Husson University
1 College Circle
Bangor, Maine 04401
Biography
Pharmacy education has been a major focus of Dr. Lindblad's professional activities for a number of years, and he looks forward to bringing this experience to the new School of Pharmacy at Husson University. Dr. Lindblad received a B.S. degree in Chemistry at the University of Maine followed by an M.S. degree, also in Chemistry, from Cleveland State University. His doctoral degree in Pharmacology & Toxicology was obtained at the University of Rhode Island before moving south of the Mason-Dixon Line for a post-doctoral position at the Medical College of Virginia in Richmond.
Dr. Lindblad's first academic position was in the Department of Surgery at the Medical College of Virginia where he developed his interest in translational biomedical research. He then went on to positions in the Department of Pharmaceutical Sciences at the Eugene Applebaum College of Pharmacy and Health Sciences at Wayne State University, Detroit, Michigan and the Massachusetts College of Pharmacy and Health Sciences in Boston. In addition to these academic appointments, Dr. Lindblad was the Founding Co-Editor and Editor-in-Chief of the biomedical journal Wound Repair and Regeneration for 15 years.
Along with a wealth of teaching experience, he is an established investigator in the area of dermal tissue injury, repair and regeneration. Over the past 25 years, he has received numerous grants and contracts from the National Institutes of Health and private corporations to support this research. Recently these studies have focused on impaired healing in individuals with diabetes. These studies lead to the development of a novel wound healing device that uses human cells to modify the wound environment in dermal ulcers that are recalcitrant to other treatments. This work subsequently lead to the formation of a start-up biotechnology company - Keracure, Inc.
The pharmacy profession is moving into the realm of advanced biotherapeutics. Developments in pharmacogenomics, gene therapy, and stem cells give the profession the opportunity to participate in individualized or personalized medicine. While there will be many opportunities for our pharmacy graduates, they will need to acquire new skills and knowledge that will challenge the traditional concept of the profession. This will provide them with rewarding careers helping to not only treat, but cure patients, with a variety of debilitating chronic diseases. I see my role as a facilitator for the students to learn and apply this knowledge.