Tony Gerow
iEX Center Multimedia/Extended Reality Technologist College of Business School of Technology and Innovation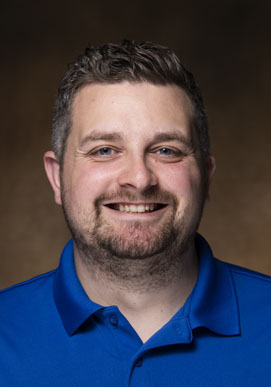 Contact:
Husson University
1 College Circle
Bangor, Maine 04401
Biography
Tony Gerow joined the iEX Center team at Husson University in 2022 after spending over a decade touring, teaching, and performing. Tony was born and raised in Bangor and graduated from Bangor High School. He spent 3 years at the Rochester Institute of Technology in the Graphic Design program and sang in the acapella group 8 Beat Measure.
In 2009 he moved to California to join an international touring group named The Young Americans. Tony held many titles with YAs including Stage Manager, Lighting Designer, and Technical Director. He did six USA tours, two tours in Japan, one tour in the United Kingdom, and was even a penguin in the Macy's Thanksgiving Day Parade! In 2014, Tony was hired by Feld Entertainment as an Assistant Electrician. With Feld, Tony toured with Disney on Ice - Celebrations and Disney Live - Pirates and Princesses. Tony was then promoted to Head Electrician of Marvel Universe Live, one of the biggest stunt arena shows in the world at the time. He toured with MUL for 2 years through the US and Canada, then spent 6 months touring Europe.
In 2017, Tony and his wife Kacie moved to Waterville, Maine where Tony was the Production Manager and Technical Director for the Waterville Opera House. He was lighting & scenic designer for many productions there including Miss Holmes, A Fox on the Fairway, Calendar Girls, Steel Magnolias, and a digital production of Almost Maine. At WOH, Tony also had the opportunity to perform as Jack Kelley in Disney's Newsies the Musical. He then made his way to Bangor in 2021 as the Lighting Supervisor of Penobscot Theater Company. At PTC, he was sound designer for Who's Holiday, projection designer for the debut of Hockey Mom, and lighting designer for their production of Clarkston.
Tony's touring, event, theater, and production work led him to many places, but he is thrilled that Husson has given him a place to come back home. Tony would not be where he is without the endless love and support of his wife Kacie, his daughters Roslyn & Magnolia, and his dog Bucky. He is honored to be part of such a distinguished institution as Husson University and looks forward to many years here.