Stephanie Shayne, EdD, MBA
Director for the School of Business and Management, Director of Graduate Programs, Assistant Professor College of Business School of Business and Management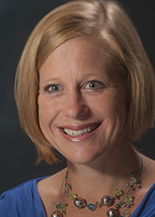 Contact:
Husson University
1 College Circle
Bangor, Maine 04401
Biography
Stephanie Shayne earned her undergraduate degree in Economics, with a minor in Mathematics from Colby College. She earned her Master's degree in Business Administration from Duke University, and her doctorate in Higher Education Administration from Northeastern University. She has worked as a consultant in several areas including transfer pricing, healthcare and financial services. She began her teaching career at community colleges in both North Carolina and Virginia. She started working at Husson in 2009 as an adjunct instructor before joining the faculty full time in 2011. 
Outside of Husson her interests include distance running, Duke Basketball, and family life with her husband and three children.
I believe that my job as an educator is to spark students' interest and inspire them to set and achieve goals. Learning is a complex process that is unique to every individual. There are a few different ideas that I try to bring into each of my classrooms. First, one role of a teacher is to be a leader. It is my job to arm my students with the knowledge and basic skills that they will need to move forward both in my classroom and in their future careers. Next, I believe that one of my students' best resources in any course is their peers. Third, it is vital to encourage students to expand their core knowledge and to push them by making them apply their knowledge and skills in new ways. Fourth, students need to be engaged and encouraged. A teacher needs to be both a mentor and a cheerleader. Finally, a teacher must also be a learner. In my classroom I foster an environment where my students feel comfortable sharing their concerns and ideas.
As a life-long learner, I have found a career that I love in teaching. There is little that gives me as much satisfaction as connecting with my students and helping them succeed.