Spiro Doukas, EdD, MSc
Associate Professor College of Business School of Hospitality, Sport and Tourism Management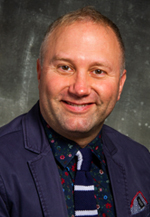 Contact:
Husson University
1 College Circle
Bangor, Maine 04401
Biography
Professor Doukas brings extensive experience to the classroom. Spiro also has more than ten years of solid leadership and experience in industry, marketing and logistics as well as working with leading organizations in sports, including the Trinidad and Tobago Olympic Committee, the 2004 Athens Olympics and the NBA (National Basketball Association). Dr. Doukas has developed and fostered natural cultural flexibility and sensitivity by having lived and taught in the United States, Greece, the United Kingdom, South Korea and Trinidad and Tobago.
Professor Doukas has had the opportunity to travel extensively and to participate in academic conference opportunities throughout the world and holds a global view of business resulting in international initiatives and creating and participating in academic programs and societies such as ATINER (Athens Institute for Education and Research) and the China Sport Venue Association Research Center of South China Normal University.
Dr. Doukas holds a Doctor of Education in Sports Management with a specialization in Marketing, from the United States Sports Academy, a Master of Science in International Transportation Management & Supply Chain Management from the State University of New York Maritime College and a Bachelor's degree in Business, Management and Economics from the State University of New York Empire State College.
He enjoys spending time with family and friends, hiking and other outdoor activities, exercising and getting to know others over a cup of coffee. 
Professor Doukas believes that teaching is a process of inspiring, empowering and creating better citizens for the world. Enthusing and challenging students to be great and embolden them with the skills to achieve their goals and ambitions is his professional aspiration. He enjoys helping people through personal coaching and teaching and he especially enjoys the moment when the learner comprehends a new way of thinking and solving problems. Education is lifelong and never ends and he encourages students to explore existing limits in knowledge and within themselves. He attempts to navigate students to recognize that education is a changing, humbling state of mind, attainable to all.
"Knowing others is intelligence; knowing yourself is true wisdom. Mastering others is strength; mastering yourself is true power." – Lao Tzu, Tao Te Ching