Shuhua Bai, PhD
Professor of Pharmaceutics School of Pharmacy College of Health and Pharmacy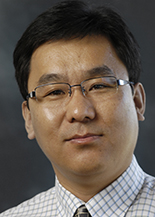 Contact:
Husson University
1 College Circle
Bangor, Maine 04401
Biography
Dr. Shuhua Bai is a Professor of Pharmaceutics in the Department of Basic Pharmaceutical Sciences. He joined the Husson University School of Pharmacy in April, 2009. Shuhua received his Bachelor of Pharmacy and Master of Medicinal Chemistry degrees from Shenyang Pharmaceutical University in China. After working as a drug development researcher for three years, Dr. Bai joined the Texas Tech University Health Sciences Center where he earned a Ph.D. in Pharmaceutics in 2008.
His research interest focuses on the development of nanoparticles for noninvasive delivery of therapeutic agents. He has published extensively on nasal and pulmonary delivery of low molecular weight heparins in peer-reviewed journals, including Pharmaceutical Research, Journal of Pharmaceutical Sciences, European Journal of Pharmaceutical Sciences, and Journal of Controlled Release.
I believe one of the most successful teaching styles is when a teacher is truly involved and sincerely interested in his students. I am inspired to share my learning, teaching, and research experiences on the basic pharmaceutical sciences with my students. The goal of my teaching is to explore many possible ways to mentor students as they become self-directed learners promoting patient centered health care.