Shuhua Bai, PhD
Professor of Pharmaceutical Sciences College of Health and Pharmacy School of Pharmacy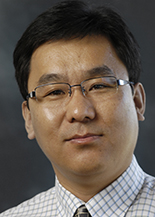 Contact:
Husson University
1 College Circle
Bangor, Maine 04401
Biography
Dr. Shuhua Bai is a Professor in the Department of Pharmaceutical Sciences. He joined the Husson University School of Pharmacy in 2009. Dr. Bai received his B.S. in Pharmaceutical Engineering and M.S. in Medicinal Chemistry degrees from Shenyang Pharmaceutical University. His doctoral degree in Pharmaceutical Sciences was obtained at the School of Pharmacy, Texas Tech University Health Sciences Center.
Dr. Bai's research has been focusing on the development of novel medicines that effectively cross biological membranes for targeted therapy. Nanotechnologies in his lab have been applied for delivering efficacy of molecules, such as protein, small interfering RNA (siRNA), and CRISPR/Cas 9, which have a short duration of action and/or low permeability across physiological barriers to disease sites. While having extensive experience in the development of polymer-based nanospheres, lipid nanoparticles, and drug-polymer nanoconjugates, Dr. Bai is currently piloting biocompatible and bioengineered exosome-based nanosystems for the treatment of various diseases.
Dr. Bai likes to share his learning, teaching, and research experiences in the pharmaceutical sciences with students. The goal of his teaching is to explore many possible ways to mentor students as they become self-directed learners promoting patient-centered health care.
Professional Work
Teaching Experience
Pharmaceutics, physical pharmacy, and dosage forms
Biopharmaceutics and pharmacokinetics
Sterile and nonsterile compounding
Advances in drug delivery systems
Gene and cell therapy
Drug development and approval
Applied pharmacology and pharmacotherapeutics
Biostatistics
Research Interests
Optimization and characterization of lipid nanoparticles
Exosome characterization and bioengineering
Protein, siRNA, and CRISPR/CAS9 delivery
PK/PD evaluation of nanoformulations
Brain disease, lung disease, and cancer therapy
Pharmacoresistance
Awards
Husson School of Pharmacy Teaching Excellence Award (2020)
NIH/NIBIB 1R03EB028572 (2019 - 2022)
Husson University Global Scholar (2019)
Pharmaceutical Research Meritorious Manuscript (2017)
Maine IDe Network of Biomedical Research Excellence Fellowship (2013)
Maine Cancer Foundation Pilot Research Grants (2011-2012, 2013-2014)
Husson University Distinguished Research Award (2011)
Publications