Sam Caito, PhD
Assistant Professor of Pharmaceutical Sciences College of Health and Pharmacy School of Pharmacy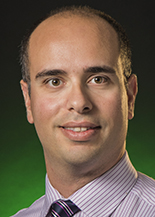 Contact:
Husson University
1 College Circle
Bangor, Maine 04401
Biography
Dr. Samuel Caito joined Husson School of Pharmacy as an Assistant Professor in the fall of 2017. He earned his Ph.D. in Toxicology from the University of Rochester School of Medicine and Dentistry in 2010. He completed post-doctoral training at Vanderbilt University and Albert Einstein College of Medicine, focusing on the neurotoxicity of dithiocarbamate pesticides, acrylonitrile, and methylmercury.
At Husson, Dr. Caito teaches biochemistry, toxicology, cancer pathophysiology, research design, and mentors students in his laboratory.
Dr. Caito's research interests focus on metabolic effects of methylmercury, a major contaminant of our fish and seafood supply. Projects in his laboratory include investigating the effects of methylmercury on nutrient storage and metabolism, mitochondrial function, metabolic gene regulation, and neurobehavior in the Caenorhabditis elegans model organism. Dr. Caito has authored over 45 articles, reviews and book chapters in peer-reviewed journals such as Toxicological Sciences, Journal of Neurochemistry, Antioxidant & Redox Signaling, Chemical Research in Toxicology, and the FASEB Journal.
Outside of work, Dr. Caito enjoys spending time with his family, cooking, long-distance running, painting, and gardening.
See the below link for a list of Dr. Caito's research and review articles.
https://www.ncbi.nlm.nih.gov/pubmed/?term=caito+s