Robert A. Clark, PhD, CFA
President and CEO Administration - University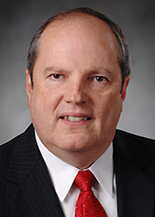 Contact:
Husson University
1 College Circle
Bangor, Maine 04401
Biography
Robert A. Clark is a Maine native from Albion and graduated from Lawrence High School in Fairfield. He earned a B.A. in Spanish, a B.S. in Business Administration, and an M.B.A. from the University of Maine. He was awarded the Ph.D. in Finance from Purdue University and also earned the Chartered Financial Analyst (CFA) professional designation.
Prior to the Husson presidency, Clark served as the Vice President of Strategic Initiatives and Dean of the Schroeder Family School of Business Administration at the University of Evansville in Indiana. He also was the founding executive director of the University's Institute for Global Enterprise in Indiana. He has held academic appointments as a faculty member in Finance and Global Business at Butler University, the University of Tampa, and the University of Vermont.
In addition, he has experience as a United States Army Administrative Officer, Consultant, Pension Administrator and Controller. Clark has served as a Fulbright Scholar at the Norwegian School of Management and as a guest faculty member at the Business and Economics University in Vienna. He has published articles on securities market regulation and emerging markets in a number of refereed academic journals, authored major grants from the Lilly Foundation, U.S. Department of Education, and the Kemper Foundation, and currently serves on the Bloomberg Businessweek's Academic Advisory Panel.
President Clark is the father of two children, Sarah, a Curriculum Coordinator for the Department of Defense, resides with her husband and three children in Italy and Elizabeth, a 2016 Husson graduate of the Nursing program, resides with her husband in Auburn, Maine.