Robert Brooks, PhD
Associate Professor College of Science and Humanities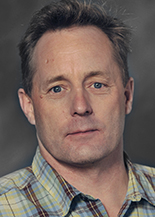 Contact:
Husson University
1 College Circle
Bangor, Maine 04401
Biography
Robert Brooks received his Bachelor of Science degree from the University of Idaho with a dual-major of Zoology and Chemistry with an Art Design minor. His Master of Science degree in Human Biodynamics and Physiology is from the University of Wisconsin. Most recently, Robert's Ph.D. was earned at Washington State University, where he again dual-majored and authored two dissertations in the disciplines of Biomechanics and Health Services Education.
Robert worked as an Anatomical Pathologist at the Washington State University's Human Anatomy Lab for nearly a decade. He has been a Visiting Professor at Wake Forest University; an Assistant Professor at Lyndon State College in Vermont; an Assistant Professor/Director of Biomechanics Laboratory at Pacific University in Oregon; and an Assistant Professor at Fort Lewis College in Colorado.
Along with teaching duties at Husson, he also pursues his own research interests. Most recently, those interests have involved cellular mechanisms associated with aging, muscle growth and wasting. He is interested especially in the effects of swimming on the body.