Nancy Roberts, APR, MBA
Program Coordinator - Marketing, Instructor College of Business New England School of Communications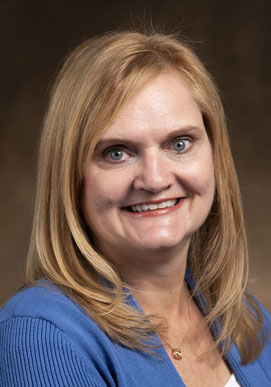 Contact:
Husson University
1 College Circle
Bangor, Maine 04401
Biography
Nancy Roberts holds a Bachelor's degree in Communications with a minor in Graphic Design from Central Connecticut State University. She received a Master's degree in Business Administration from Husson University. She has earned Accreditation in Public Relations (APR) from the Public Relations Society of America Universal Accreditation Board. Accreditation in Public Relations is the largest and most prestigious certification program for the public relations profession. The designation signifies a high level of experience and knowledge, strategic perspective, and sound professional judgment.
Nancy joined the faculty at New England School of Communications in 2007 to develop and lead the marketing communications program. A cornerstone of the program is experiential learning provided through area client projects and entering national competitions. Nancy enjoys advising her students and working with them individually to achieve their goals. Nancy's areas of teaching expertise include public relations, marketing and advertising. She founded and advises the Public Relations Student Society of America Chapter.
Nancy has worked in marketing and public relations for healthcare and nonprofit organizations for eighteen years. She continues to work as a communications and marketing consultant specializing in brand management and crisis communication. She is a graduate of Bangor Region Leadership Institute and Leadership Maine. She is on the Brewer Economic Development Board and Maine Public Relations Council Board of Directors serving as the Accreditation Chair. Her personal interests include running, hiking and spending time with her husband and two children.