Mark Higgins
Sergeant Department of Safety and Security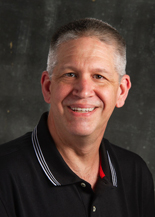 Contact:
Husson University
1 College Circle
Bangor, Maine 04401
Biography
Mark Higgins worked for the Hancock County Sheriff's Department for 11 years and the State of Maine Judicial Marshal Service for two years. During this time, he served as a Corrections Officer, Community Corrections Specialist, Part-time Patrol Deputy, and Deputy Judicial Marshal. Mark instructed corrections courses at the Maine Criminal Justice Academy and was also a certified OC instructor providing training for the sheriff's department and local police departments in Hancock County. 
In 2005 Mark went into business and was one of the founding owners of Evergreen Home & Hearth. The company provided alternative heating products, including installation and repair services, and grew to have 15 employees with Ellsworth and Brewer locations.  In 2016, Mark and his partners sold the company to new owners, and it continues to operate today.  
Mark has worked for Husson Safety & Security since January of 2017 and is currently a Sergeant with the department.