Lee Speronis, JD, BS, CHE, CHIA, CAHTA
Associate Professor & Director, School of Hospitality, Sports & Tourism & Assistant Dean of COB College of Business School of Hospitality, Sport and Tourism Management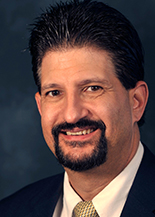 Contact:
Husson University
1 College Circle
Bangor, Maine 04401
Biography
Professor Speronis received his law degree from Stetson University and worked as an attorney in Florida in various capacities for over ten years. He was an area director for a major restaurant company in metropolitan New York before moving to Bangor with his family where he became an award winning managing/partner at one of the area's premier restaurants. In 2020 Dr. Speronis was awarded the prestigious Arthur Comstock Award for professional service and leadership by the Bangor Region Chamber of Commerce.
Since moving to Maine in 2003, Lee has concentrated on giving back to the community as much as possible through charitable work and service. Lee is the current board chair of the Bangor Convention and Visitor's Bureau while previously serving as chair from 2013-2015. Additionally, he served as board chair of the Bangor Region Chamber of Commerce from 2017-2019 and is now serving as chair of the Bangor Community Council. Lee is the treasurer of the Cross Insurance Center Advisory Group and is a member of the Citizen's advisory council for Eastern Maine Medical Center. He is vice chair of the board of the Maine Tourism Association, a board member of Maine Hospitality and the president of the Parish Council at Saint George Greek Orthodox Church. His current and past fundraising activities have included the following: the American Folk Festival, MPBN, the Bangor Humane Society, and Champion the Cure Challenge for the Lafayette Cancer Center.
As an advisor, "Dr.S" enjoys working with his students closely in order to help them to achieve their goals. He is or has been an advisor to student government, the Hospitality Association and College Republican clubs at Husson. He has served 8 years as an assistant coach of Husson's 9-time conference championship softball team, and 5 years as the faculty representative to Husson's 4-time conference championship football team. Dr.S. has always been highly interested in helping students gain knowledge in the business world and hospitality industries through experiential learning. He began his teaching career at Husson in 2008. Dr. Speronis is often asked to present or participate in panels and interviews on various topics of business and hospitality and his passion for his industry is well-known Leadership. His personal interests include family life with his wife and two children, hiking, kayaking and the Red Sox.
The best way to inspire people to superior performance is to convince them by everything you do and by your everyday attitude that you are wholeheartedly supporting them. -Harold S. Geneen
My teaching philosophy is simple: To bring energy and engagement to my students during every class and to help them exceed their expectations in their learning experience both on and off the campus. My work bringing our students to the workplace, and bringing the workplace to our students is particularly fulfilling and together we are achieving great success in transitioning our many experiential learning opportunities into careers for students. My goal as an administrator is to assist the Dean in establishing Husson throughout the community as a strength and resource to be developed even further.                   
If your actions inspire others to dream more, learn more, do more and become more, you are a leader. -John Quincy Adams