Kris Bridges, MEd
Video Instructor New England School of Communications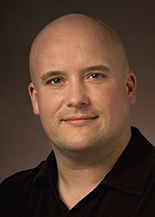 Contact:
Husson University
1 College Circle
Bangor, Maine 04401
Biography
Kris Bridges is a visual storyteller. He teaches courses in Video Production including Advanced Video Compositing & Motion Graphics, and Video 1. One of his favorite projects is working on the annual short film production with a team of students.
In 1998, Kris started working with the International Alliance of Theatrical Stage Employees. Here his interest in production grew, so he attended NESCom. After college, Kris worked as an Assistant Video Editor for a Russian tour company. He became a Production Assistant and then Director for ABC7 in Bangor. He directed a live statewide TV show there, before accepting a position as Editor/Director at the Maine Public Broadcasting Network in 2004. Kris has edited short form documentaries and directed live programs for the PBS affiliate ever since.
Kris is a motion graphic artist, blogger and video podcaster. He is a voracious reader of filmmaking books, an Alfred Hitchcock aficionado, and a member of several film organizations including the Maine Film and Video Association and Northeast Historic Film.
Currently, Kris is producing a documentary about Maine's state treat, the Whoopie Pie. In his spare time, instead of buying lottery tickets, Kris writes screenplays.