Kimberly Steinbarger, PT, MHS, DHSc.
Assistant Professor College of Health and Pharmacy School of Physical Therapy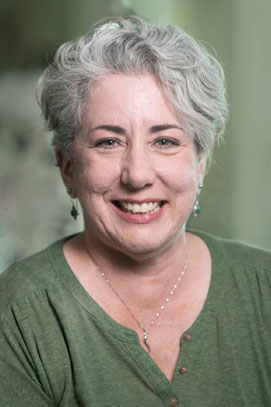 Contact:
Husson University
1 College Circle
Bangor, Maine 04401
Biography
Dr. Steinbarger is a physical therapist and Assistant Professor at Husson University, and has been teaching at Husson since 2002. She received her Honors Bachelor of Science Degree in Physical Therapy from Daemen College in 1989, her Master of Health Science Degree in 2005 from the University of Indianapolis, and her Doctor of Health Science Degree in Rehabilitation Science in 2021 from Drexel University. Her primary teaching responsibilities are in the Therapeutic Skills and Primary Health Care courses. She developed and manages Husson's Soaring Eagles Healthcare, a pro bono clinic that provides PT services to the uninsured and underserved in the Bangor area.  She is presently the Chair of the Practice Committee for the ARP, the interprofessional branch of the American College of Rheumatology, and sits on their Executive Committee. Her research interests lie in the area of rheumatic disease, particularly as it applies to population health and health promotion. She utilizes her lifetime experience with the disease, combined with her PT, population health, and educational background, to provide practical, realistic guidance to her clients and students.  She is also a geriatric black belt, a mediocre softball player, a gardener by luck, and an excellent cook.  
"Education is not filling a pail, it's lighting a fire."(William Yeats) I couldn't say it any better myself! My hope is that students catch my enthusiasm during class and lab, and carry that fire into the clinical setting.
Research
Current Research:
American College of Rheumatology, Clinical Practice Guideline: Physical, Psychosocial,
Mind-body, and Nutritional Interventions for RA: An Integrative Approach to Treatment (Formerly: Non-Pharmacological Treatment of Rheumatoid Arthritis) Clinical Practice Guideline – Literature review team, publication anticipated by the beginning of 2023
Dissertation Research: Successful Living with Arthritis: An Innovative
Disease Self – Management Program Based on Self-Determination
PREVIOUS RESEARCH:
Steinbarger, K., Bednarz, C., Boucher, C., Gray, J., Lobley, E. DPT Students As Teachers: Effect of DPT Student-Lead Education on PTA Student Clinical Readiness.  Accepted for a Poster presentation 2021 APTA Combined Sections Meeting, Virtual Conference, 2021.
Steinbarger, K., LaPrino, S., Howland, K.  Physical therapist and occupational therapist student online interprofessional discussion board: Integration of the IPEC core competencies into clinical education.  Poster presentation 2019 APTA Combined Sections Meeting, Washington DC, February, 2019.
Fitzgerald, C., Riley, E., Cesario, C., Steinbarger, K. Advancing the Knowledge Transfer System via Social Media: Collaboration Between Academic and Clinical Educators.  Poster presentation 2018 APTA Combined Sections Meeting, New Orleans, LA, February, 2018.
Steinbarger, K., Morren, K., Goulet, K., Knecht, S., Moscone, M., Nicastro, E. Pro bono clinic management and utilization within physical therapist education programs in the United States. Poster presentation 2018 APTA Combined Sections Meeting, New Orleans, LA, February, 2018.
Steinbarger, K., Morren, K., Frankinburger, M., Gurrette, D., Gurrette, K., Hardy, E., Lawrence, K., Shink, B. The effect of participation in a student-run pro bono clinic on first clinical performance assessment scores. Poster presentation 2016 Husson University Research and Scholarship Day, Bangor ME, April 2016, Maine APTA meeting April 2016.