Kelsie Snow, PharmD
Assistant Professor of Pharmacy Practice College of Health and Pharmacy School of Pharmacy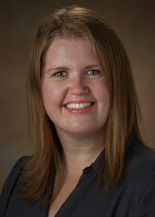 Contact:
Husson University
1 College Circle
Bangor, Maine 04401
Biography
Dr. Kelsie Snow is an Assistant Professor of Pharmacy Practice in the College of Health and Pharmacy. She joined Husson University in January of 2019. Kelsie received her Doctor of Pharmacy from Husson University in 2015, where she was also employed as a graduate assistant in the Learning Center. Kelsie was also heavily involved with extracurricular activities and patient care projects. Upon graduation, she worked as the Pharmacist in Charge of the state's two psychiatric hospitals before moving to community pharmacy, where she worked to advocate for patients. Kelsie has many interests in pharmacy, but she is particularly passionate about helping patients overcome barriers to appropriate healthcare.  Since at Husson University, Kelsie has worked in ambulatory care pharmacy and has taken on an additional role outside of the university as a pharmacist at a complete treatment center, which is focused on treating patients with substance use disorder. Kelsie has a number of initiatives within the pharmacy school and has worked to train student pharmacists, practicing pharmacists, and pharmacy technicians to help combat the COVID-19 pandemic. For teaching, Dr. Snow coordinates the pharmacy skills labs, the pharmacy law course, and assists with experiential rotations. 
I believe that the makings of a great pharmacist begin with having someone you can learn from and have honest conversations with. I strive to provide that for my students so that we can continue to improve healthcare for our patients. The goal of my teaching is to educate and mentor students as they become more self-directed clinicians with the ultimate goal of promoting exceptional patient care.
Outside of work, Kelsie has a plethora of hobbies, including gardening, hiking, photography, spending quality time with her family, generally exploring the outdoors, and covering every inch of her home in house plants. 
Dr. Snow was honored to receive the P2 Teacher of the Year award in 2020.