Joshua Small, MEd
Program Coordinator - Audio Engineering/LiveSound, Audio Instructor College of Business New England School of Communications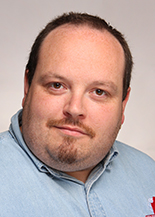 Contact:
Husson University
1 College Circle
Bangor, Maine 04401
Biography
Instructor Josh Small has been a member of the New England School of Communications Audio Department since 2005. In addition to his work at NESCom, Josh owned and operated Nightcrawler Studios as an audio engineer from 1995-2010. Josh attended Berklee College of Music and later transferred to Husson University where he received his Bachelor of Science in Communications in 2010.
Josh's teaching interests include multi-track recording, production and electronics. He has been fundamental in developing the course curriculum for Audio I, Audio II Labs, Audio III Labs, History of American Music, Principals of Effective Recording, Style and Structure for Audio, and Advanced Engineering here at NESCom. He is both Pro Tools and Venue operator certified and has received The Alpha Beta Kappa award for excellence in teaching.
Aside from teaching at NESCom, Josh is a professional musician and accomplished guitarist and has performed at venues and festivals all along the Eastern Seaboard.
Josh resides with his family in Bangor, Maine.