Jay Pelletier, MS
Instructor College of Business School of Legal Studies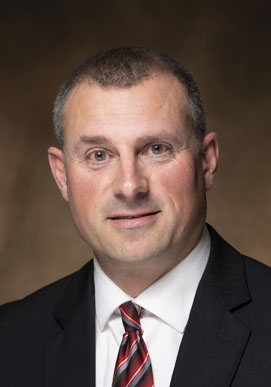 Contact:
Husson University
1 College Circle
Bangor, Maine 04401
Biography
Jay received an Associate's Degree from the University of Maine at Fort Kent in Criminal Justice, a Bachelor's Degree from the University of Southern Maine in Criminology, and a Master's Degree here at Husson University in Criminal Justice Administration. 
He served 25 years with the Maine State Police holding the ranks of Trooper, Detective, and Detective Corporal.   He began his career as a Trooper in the Franklin County area and moved to the Bangor area when he was promoted to Detective in Major Crimes Unit-North.  In the 20 years that followed, Jay investigated mainly sexual assaults and death cases, which included countless homicides.  In 2015 he was selected to be an original member of the newly formed Unsolved Homicide Unit, where he retired as a Det. Corporal in 2022.  Jay was also an original member of the Maine State Police Evidence Response Team (ERT), which was formed in 2001.  Through his training as an ERT, he became certified through the International Association of Identification as a Crime Scene Investigator.  Jay was also trained in and testified as an expert in the field of Bloodstain Pattern Analysis.  He has received recognition during his career to include ERT of the year, a nomination for Trooper of the year, and Colonel's awards.  
I grew up in a household of educators and understand the role that Teachers, Instructors, and Professors have in students' development and life path.  With that understanding, I am a firm believer that it is incumbent upon those of us who have worked in the field of Legal Studies to make connections with, mentor, train, and prepare the "next generation."  It is my goal to augment what is learned through texts and hands on training with experiences that I have had in the field, whether having been at a crime scene, conducting interviews, trial preparation, testifying, or everything in between.   These experiences have application to each student in the program, whether they want to be an Attorney, Police Officer, Forensic Scientist, Corrections Officer, or any other occupation under the Legal Studies umbrella.   Teaching here at Husson University is truly a collaborative effort and I am honored to be a part of the Legal Studies faculty.