Nash, James D., PharmD, MPH, BCPS
Dean, College of Health and Pharmacy Administration - Academic College of Health and Pharmacy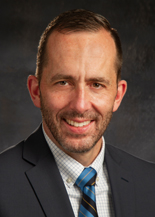 Contact:
Husson University
1 College Circle
Bangor, Maine 04401
Biography
Dr. James "Jamie" Nash is the Dean of the College of Health and Pharmacy at Husson University. Dean Nash started in this role in 2021. The academic programs under the College of Health and Pharmacy consist of Occupational Therapy, Physical Therapy, Nursing, and Pharmacy. Dr. Nash holds a Doctor of Pharmacy (PharmD) from Mercer University (Atlanta) and a Master of Public Health (MPH) from the University of Louisville. He completed his Post-Graduate Residency Training in Pharmacy Practice at the University of Colorado (Denver) and Primary Care at the University of Texas (San Antonio). He has graduate certificates in Development Practice (Regis Univ., Denver, CO) and Higher Education Leadership (Liberty Univ., Lynchburg, VA).
Dr. Nash has experience building interprofessional education curricula (Sullivan Univ., Louisville, KY and Regis Univ., Denver, CO) and a global health track for students in training at Regis University. In addition, during his tenure, he has built several health clinics at previous universities that serve students and the community at large.
Dean Nash is excited to bring his experience to Husson University as he leads the college into the next decade. Outside of Husson, Dr. Nash provides service as a Commissioned Officer in the United States Navy, and was activated in 2020 to assist in COVID-19 relief efforts in Southern California. Each year, he provides a minimum of two weeks of active-duty service as a pharmacist in many Military Medical Centers across the nation. In addition, Dr. Nash enjoys serving in his church, and he loves attending his kids' soccer games and cross country/track meets.