Erin Owen, PhD
Associate Professor & Director of Online Sciences College of Science and Humanities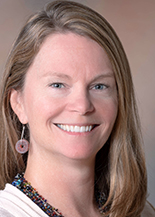 Contact:
Husson University
1 College Circle
Bangor, Maine 04401
Biography
Erin Owen attended Wellesley College, where she earned her Bachelor's degree in Biological Science. She went on to study at the Friday Harbor Laboratories where she took a specialized course in the Evolution of Development Patterns. Erin earned her Masters Degree in Marine Biology from Scripps Institution of Oceanography in San Diego, California. Most recently, she received her Ph.D. in Marine Biology from the University of Maine. During the course of her education she did to do field research on zooplankton communities in the Weddell Sea, Antarctica. She also studied the spatial and temporal structure of sea scallop populations in the Gulf of Maine.
Erin has taught throughout her academic career. She was a teaching assistant at Wellesley and at the Shoals Marine Laboratory. While at the University of Maine she worked with K-12 educators to design and implement hands-on methods of teaching science to students in Maine public schools. Also, before coming to Husson, she was a lecturer at the University College of Bangor.
Through out her career, Erin was been awarded many research-based fellowships and grants such as the Woods Hole Oceanographic Institution Summer Student Fellowship, The Explorers Club Exploratory Research Grant, and the National Science Foundation Graduate Research Fellowship. Most recently, she was awarded the Presentation Award from the University of Maine School of Marine Sciences. Putting her knowledge to work, Erin served on numerous committees including the Steering Committee for the Maine DMR Scallop Enhancement Workshop.